Dino @ Speedhunters wrote an incredible in-depth article showing Hypertune's operation. This is why we sell Hypertune! 
Welcome to the place where dreams are made. Well, if your dreams happen to revolve around beautifully machined aluminum billet bits for your engine that is.
This is Hypertune, and if you have an interest in modified Japanese engines, there's a very good chance you've heard about the Australian company and its parts. These guys don't just make components that are nice to look at, they put a lot of thought and engineering into ensuring modified and race engines meet their performance goals.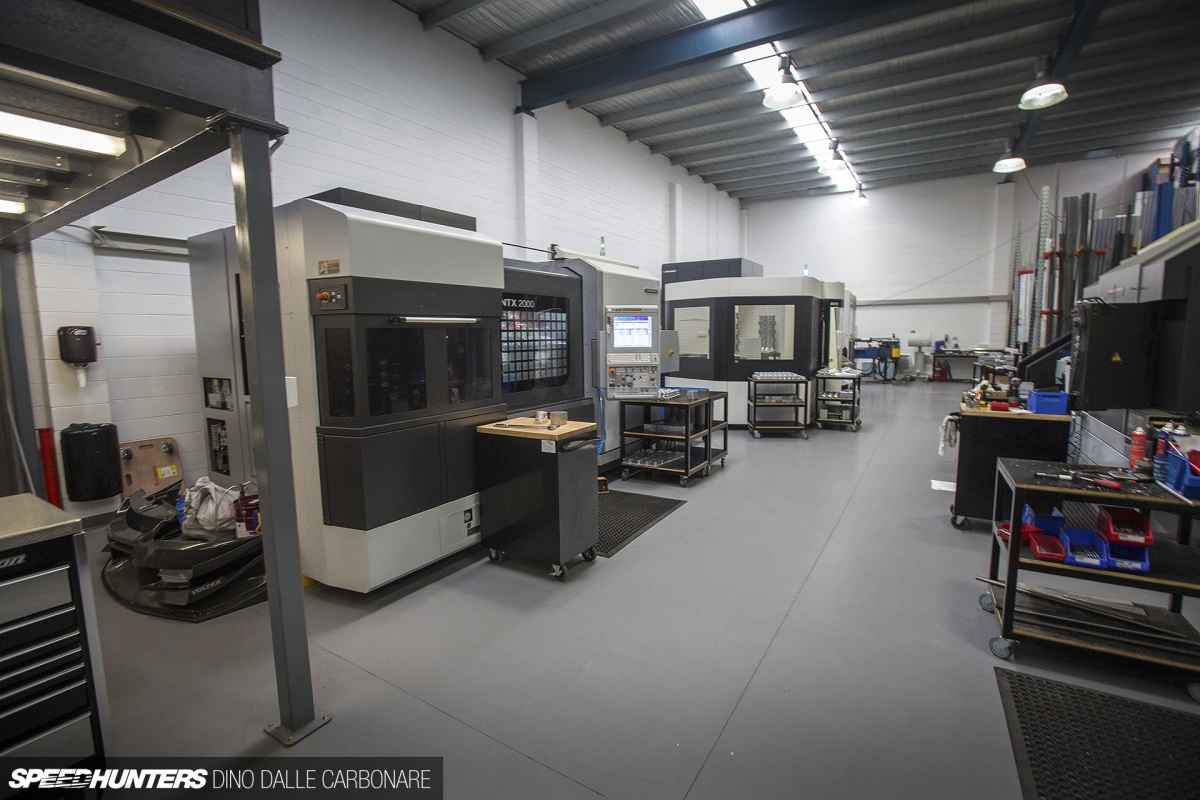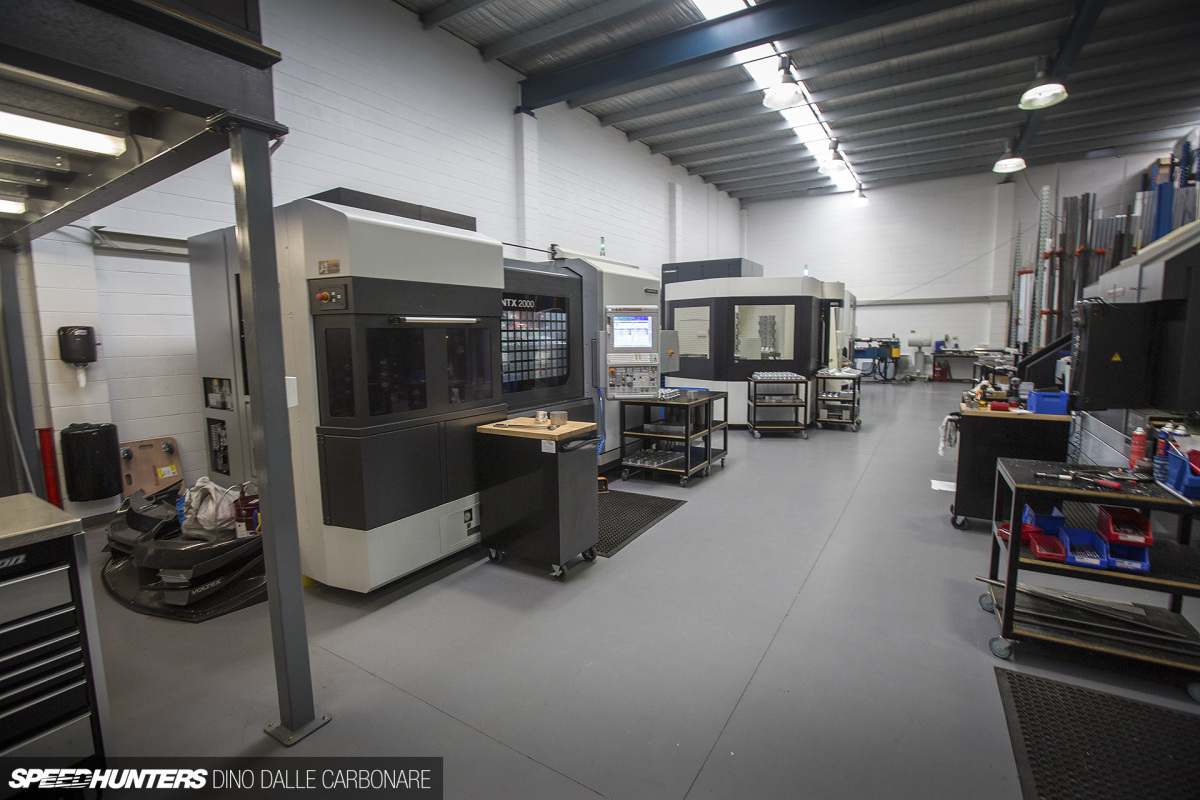 Hypertune is a small operation, but as soon as you step inside you quickly understand that this is very much a quality-driven company.
Mark Bissett, the brains behind it all, has assembled a team of skilled individuals that he trusts, and with some of the most advanced machinery in the world at their disposal, they're able to create products that speak for themselves. That's why you have to get in line if you want some of the plenums, throttle bodies and manifolds that Hypertune has become so famous for.
But let's see how all these things are created…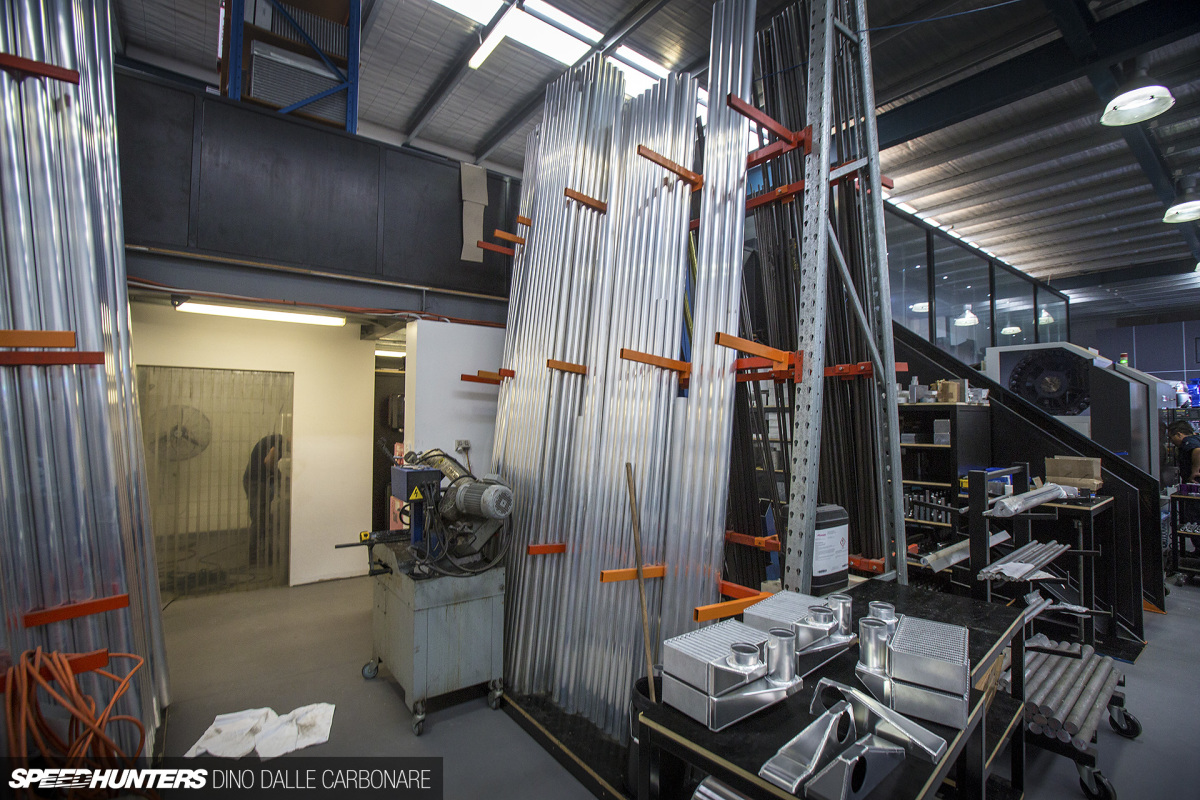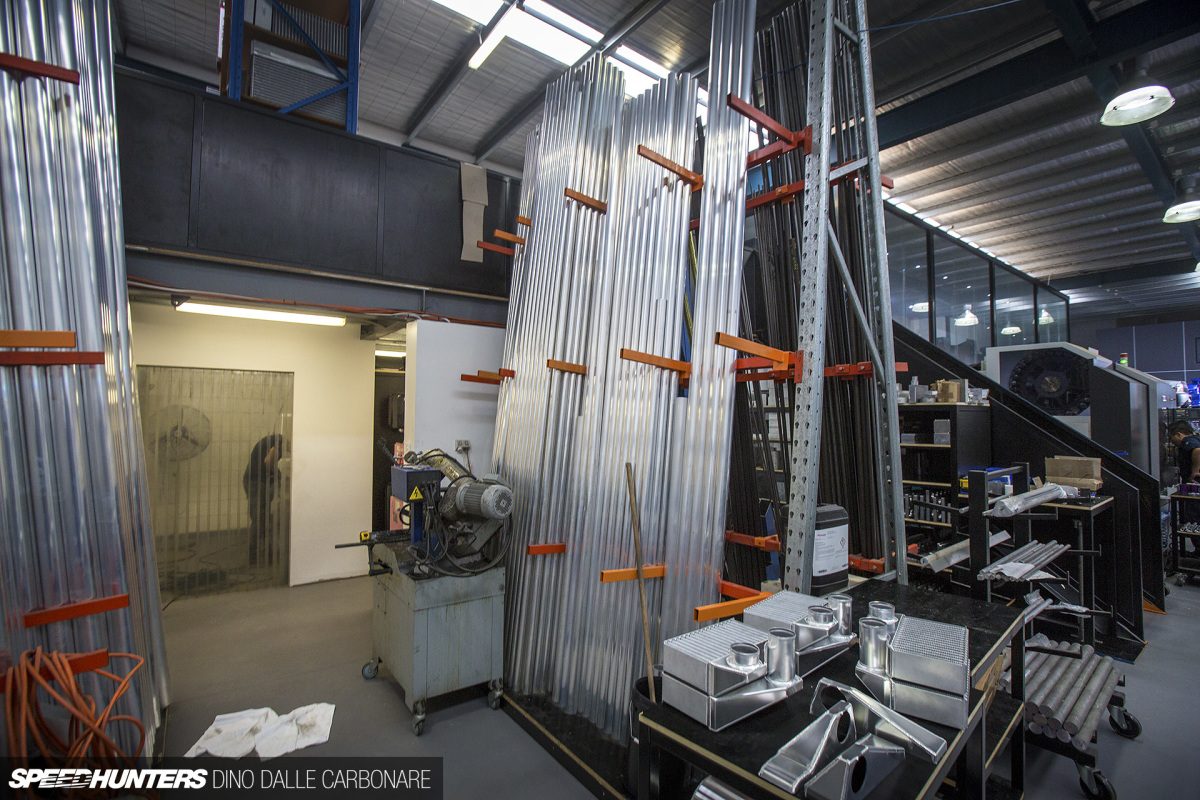 It all starts with the stock of aluminum rods and billet chunks that Hypetune's parts are sculpted from.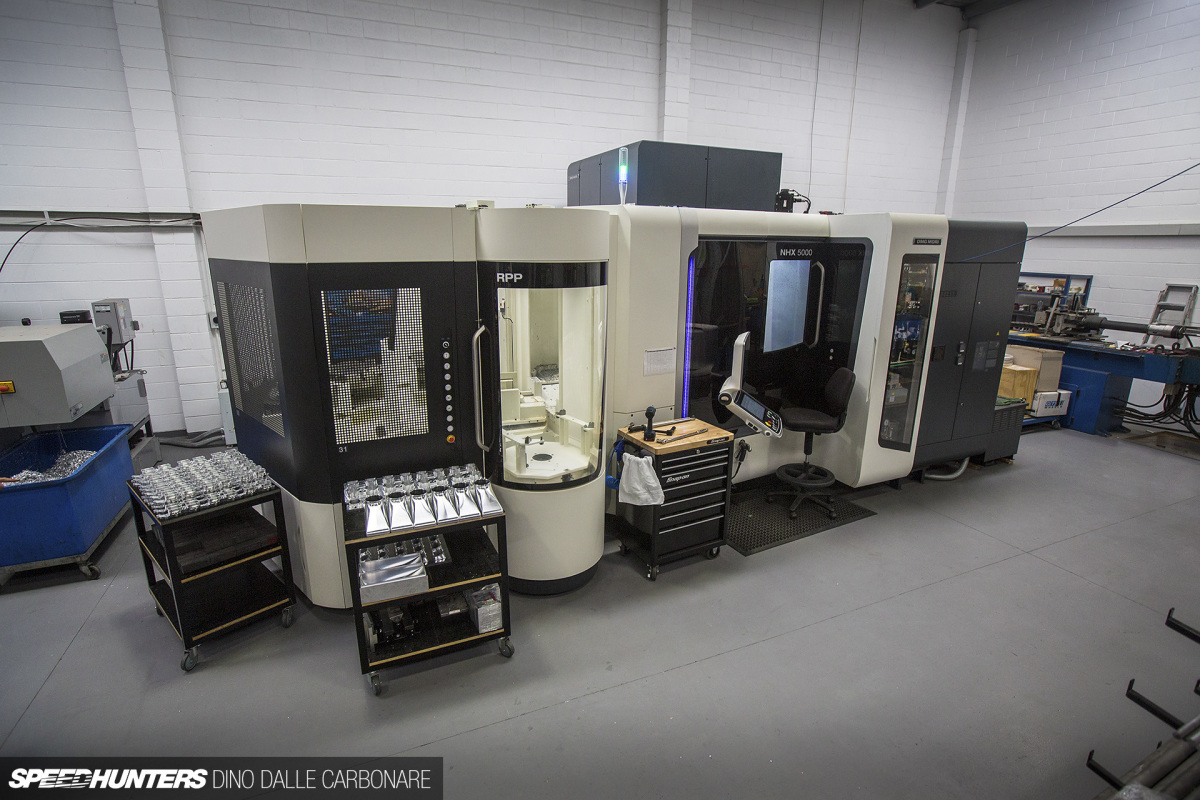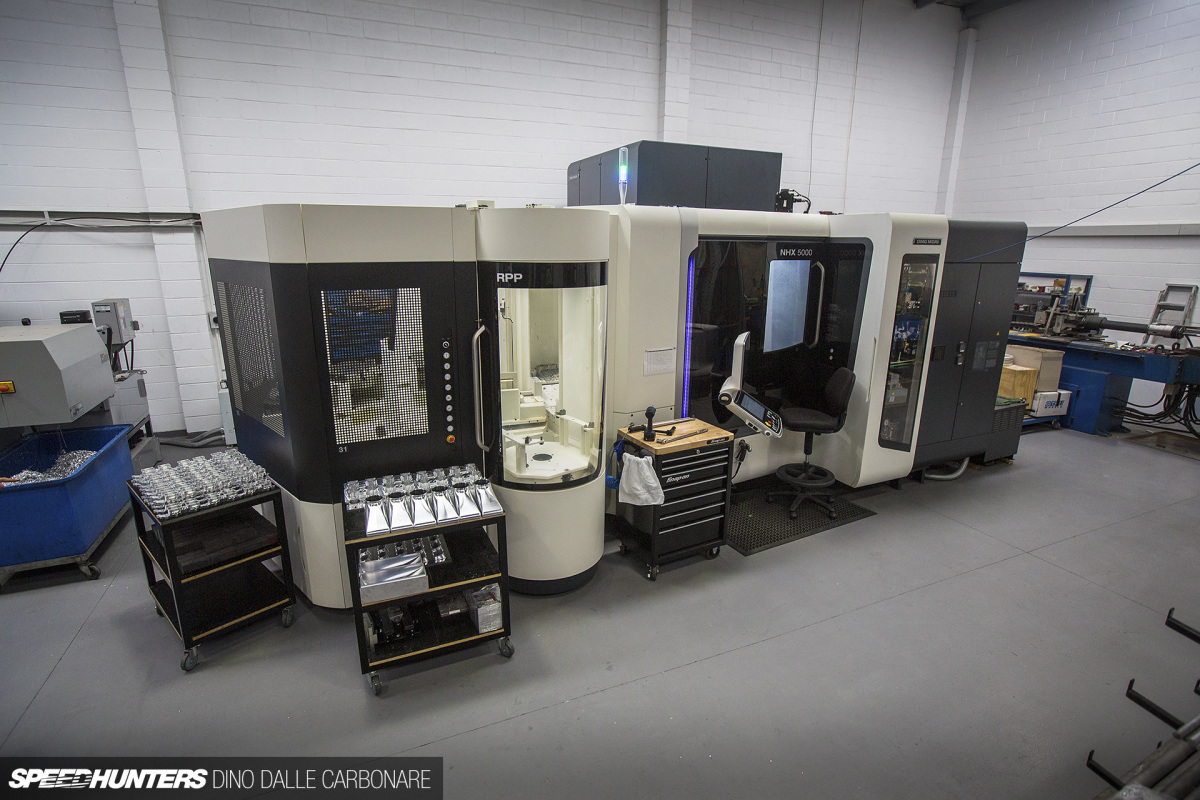 These are fed into one of three Mori Seiki milling centers where the magic happens. Despite the massive machines making it all look so easy, there's a long process of engineering that goes into designing parts in CAD and then prototyping before the final program is written and the start buttons are pushed.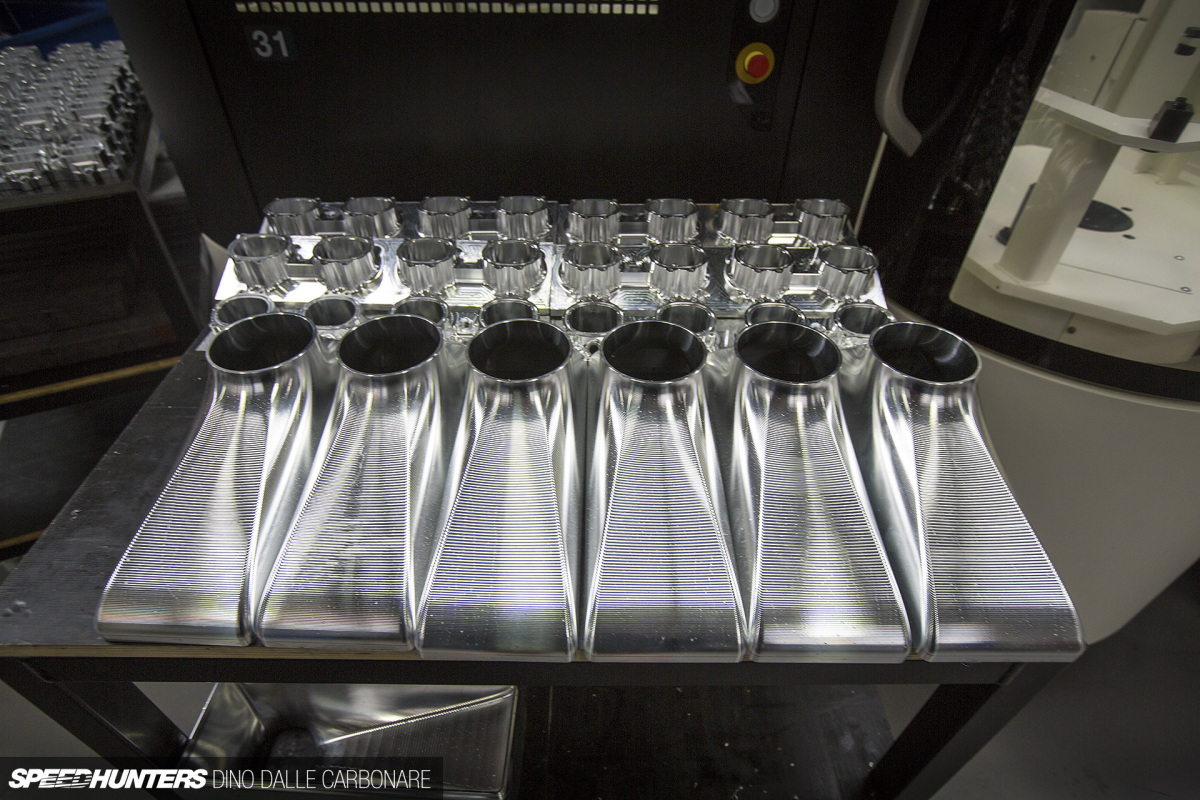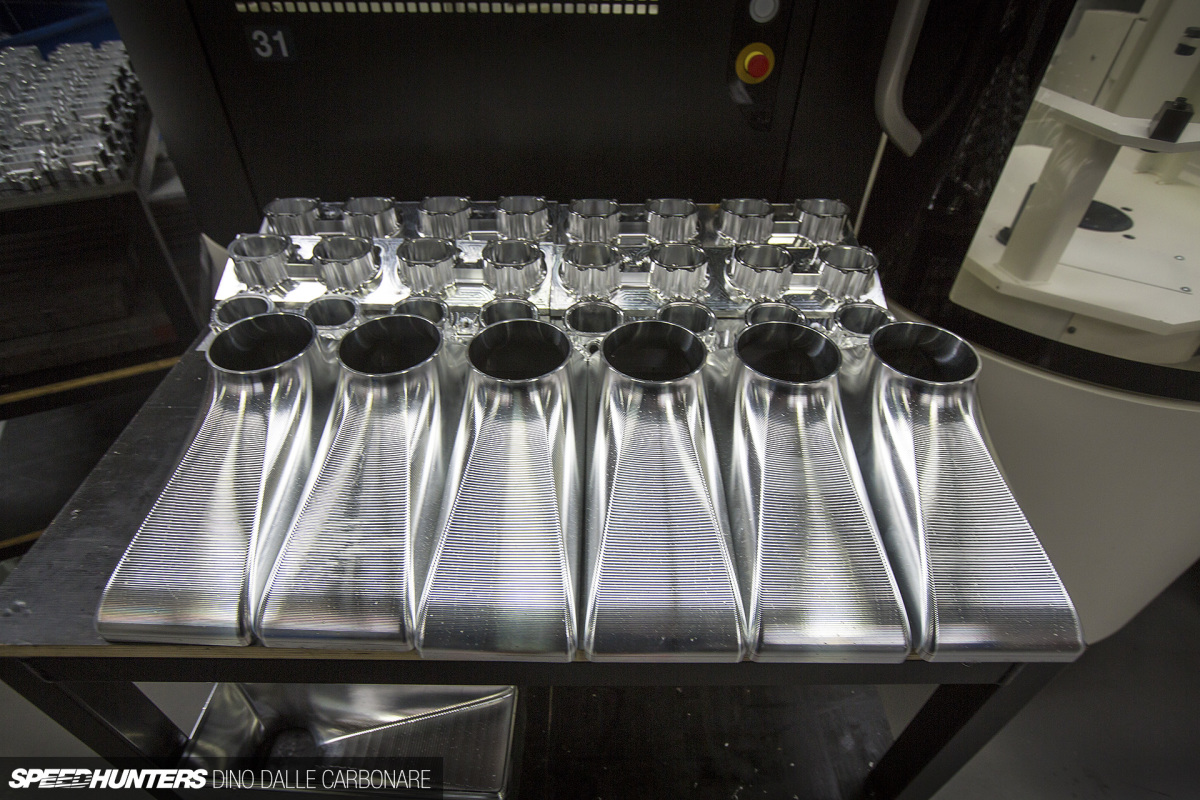 I've known of Hypertune since I saw the company's parts fitted to cars I photographed back in 2010 during our first Speedhunters trip to Australia. Mark's products have been used on some of the fastest cars around the world, including the 6-second Titan Motorsports (USA) 2JZ Celica that GAS Motorsport ran in Australia, and many of the builds we've covered at Croydon Racing Developments. The first time I saw the Hypertune name in Japan was with its big single throttle body conversion for the RB26, and then in the engine bay of Under Suzuki's time attack S15.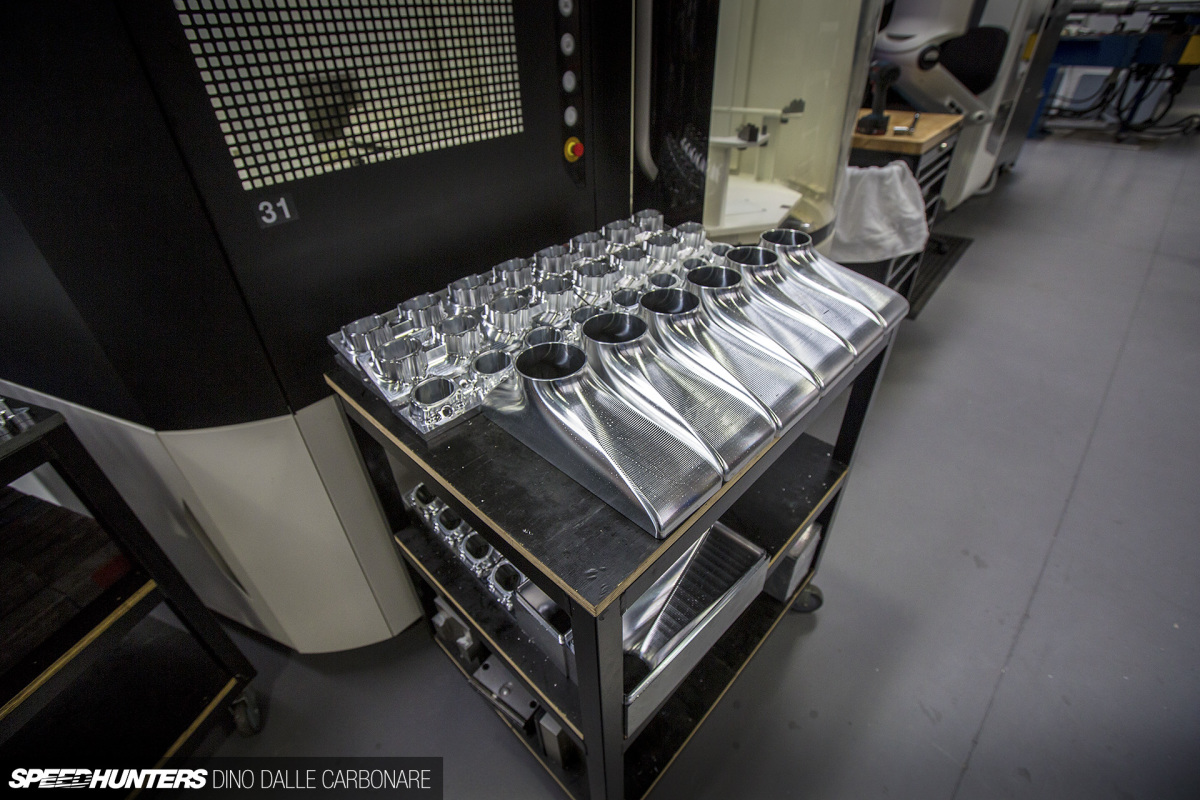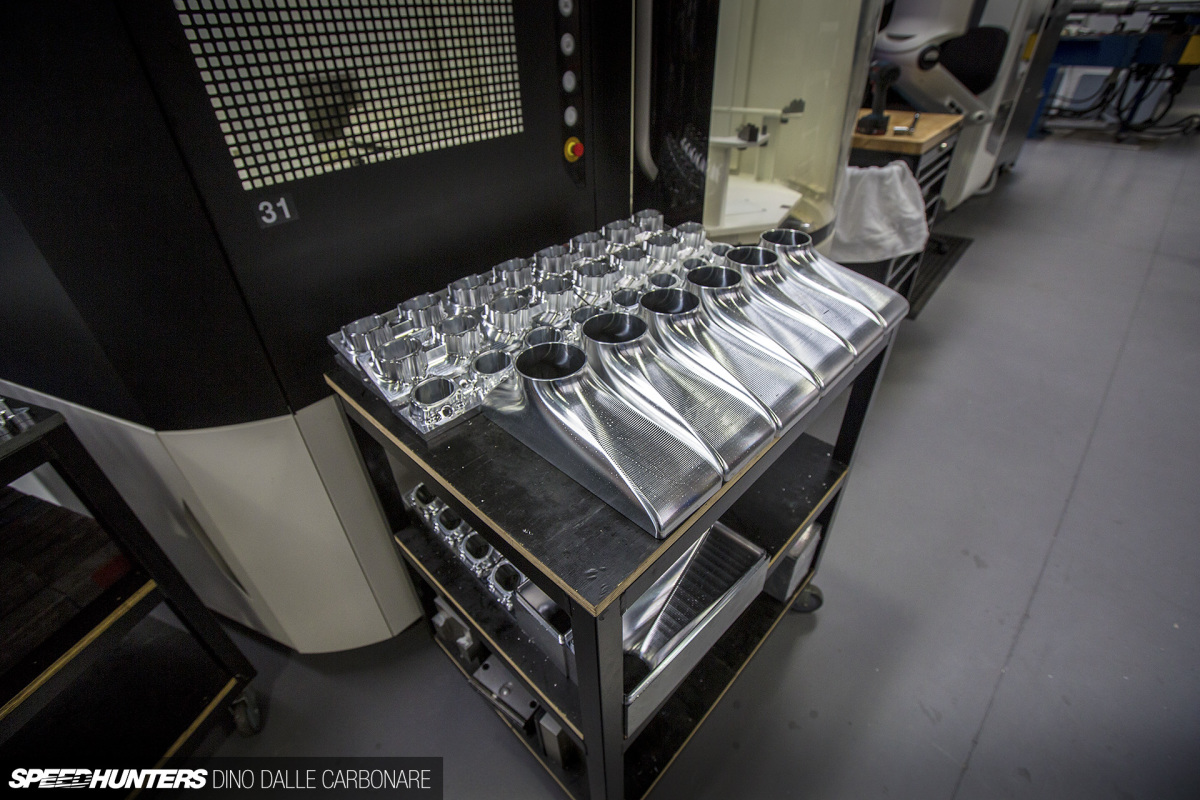 During my tour of the facility, one part in particular that really impressed me were the billet end tanks that Hypertune now make for the intercoolers it supplies. It doesn't matter what piping size you're using, the angle required, or if you want a twin-entry setup – you just send Hypertune the specs and the guys will custom make what you need and weld them to your chosen intercooler core.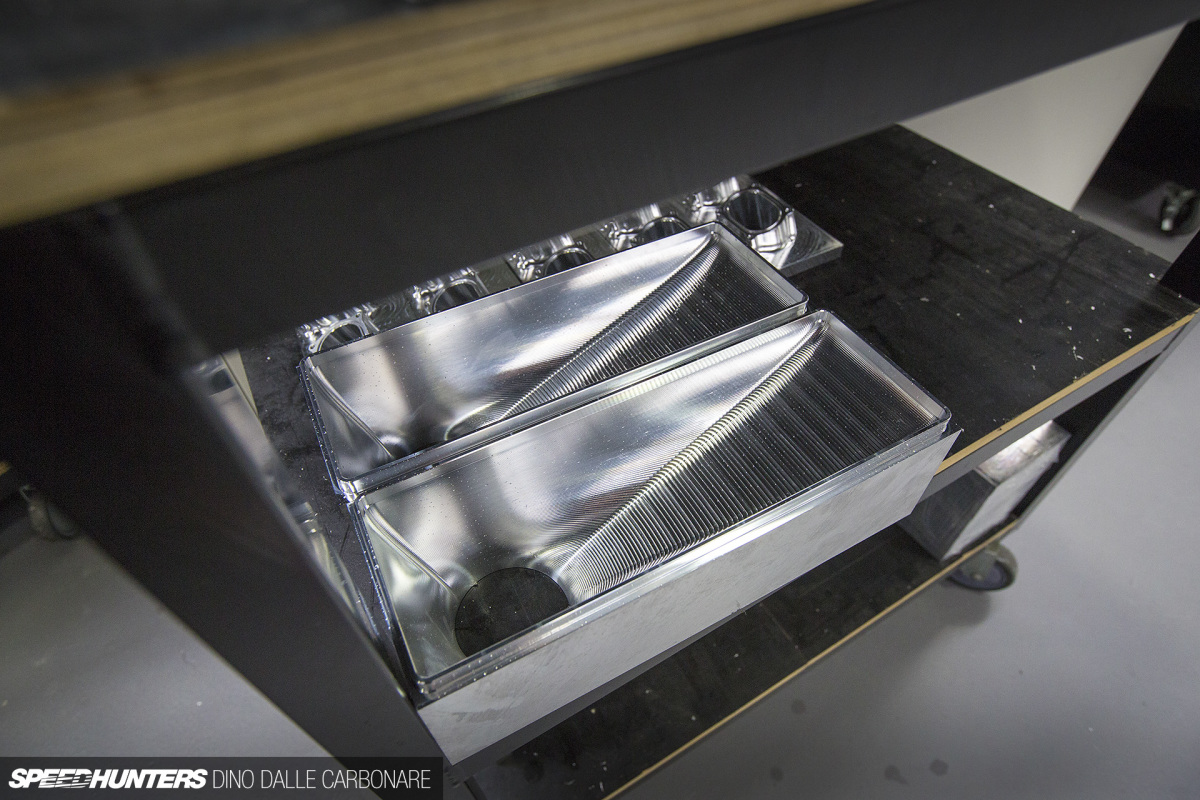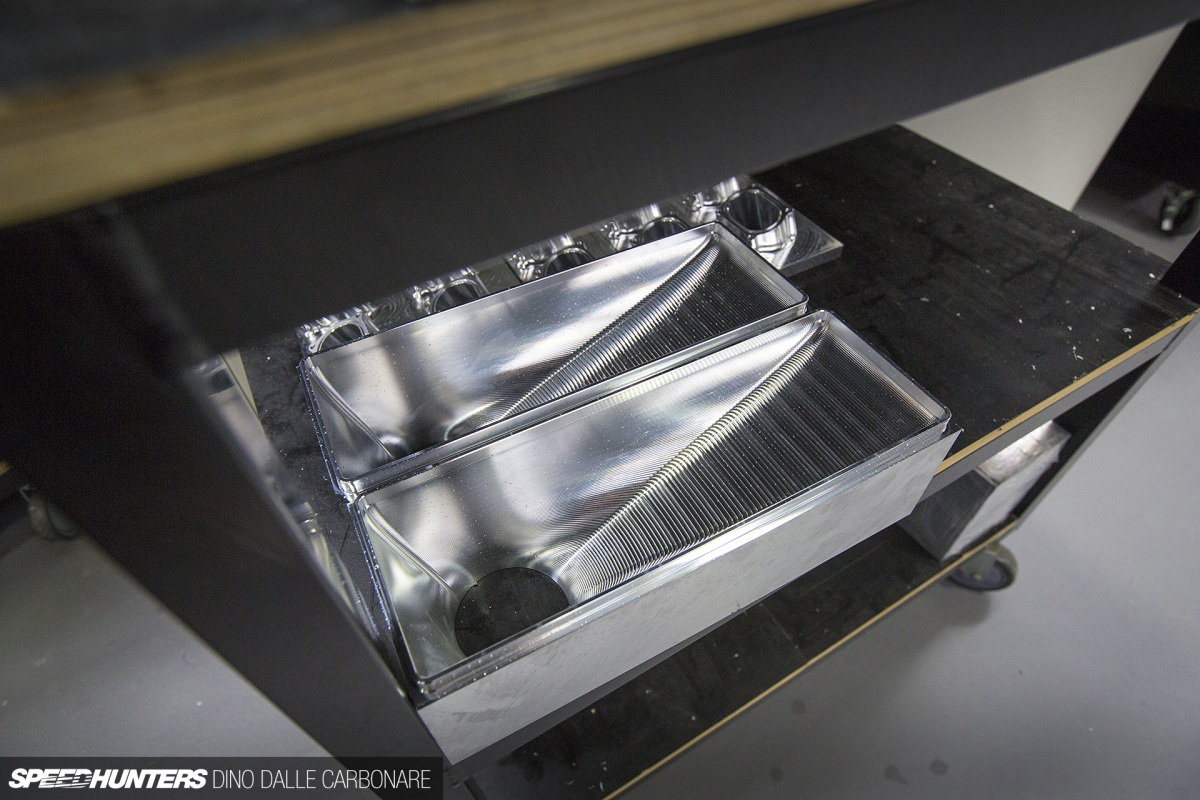 It's all totally drool-worthy; anyone with an ounce of otakuness in them would nerd-out big time at this place.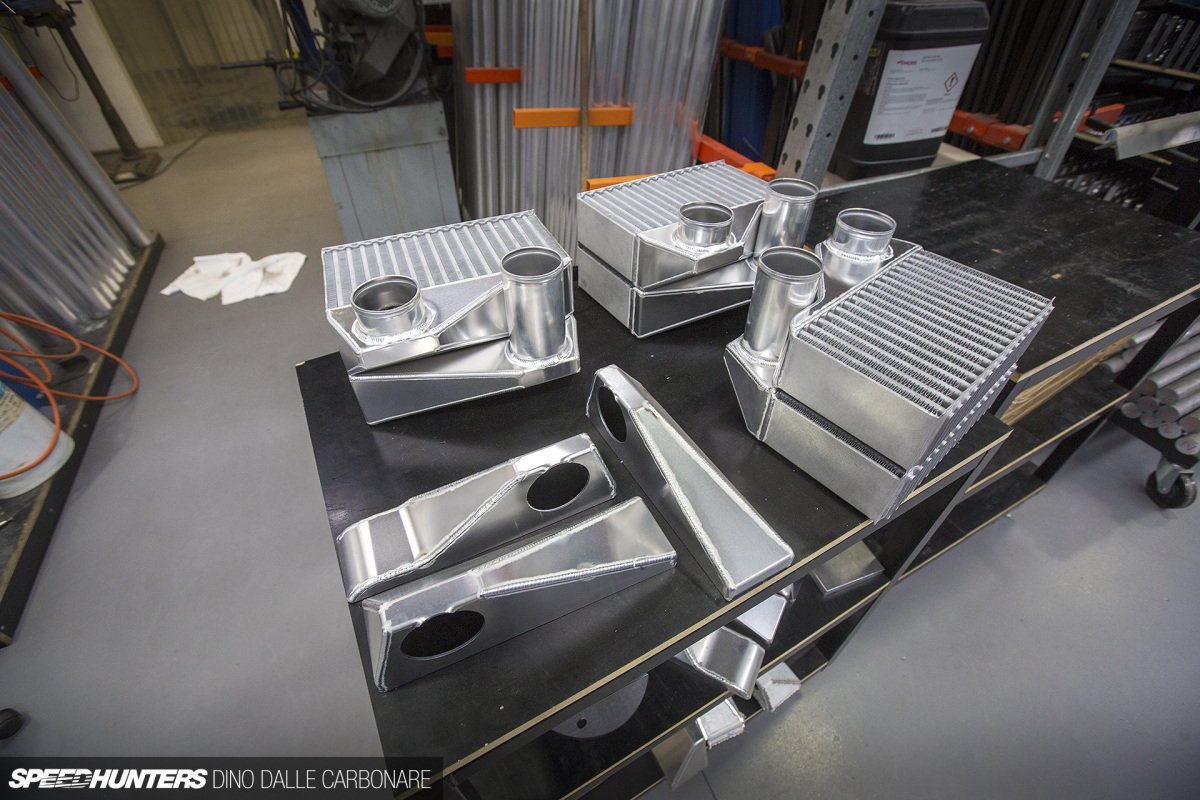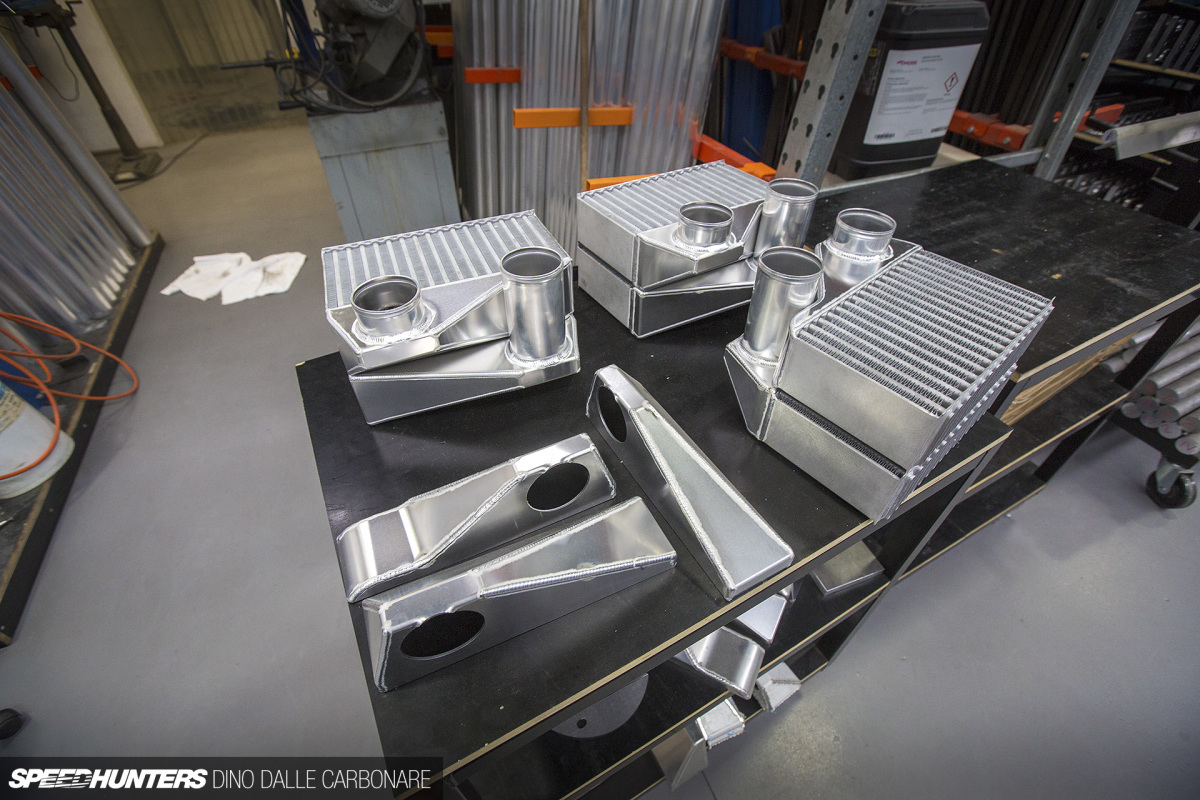 These particular coolers aren't using Hypertune's billet end tanks as they are for a totally different application, but they should give you an idea of how they're welded up to the cores.
One thing that has always defined Hypertune is its intake plenums, and the video above shows the 5-axis milling center machining out 2JZ runners from a block of billet aluminum.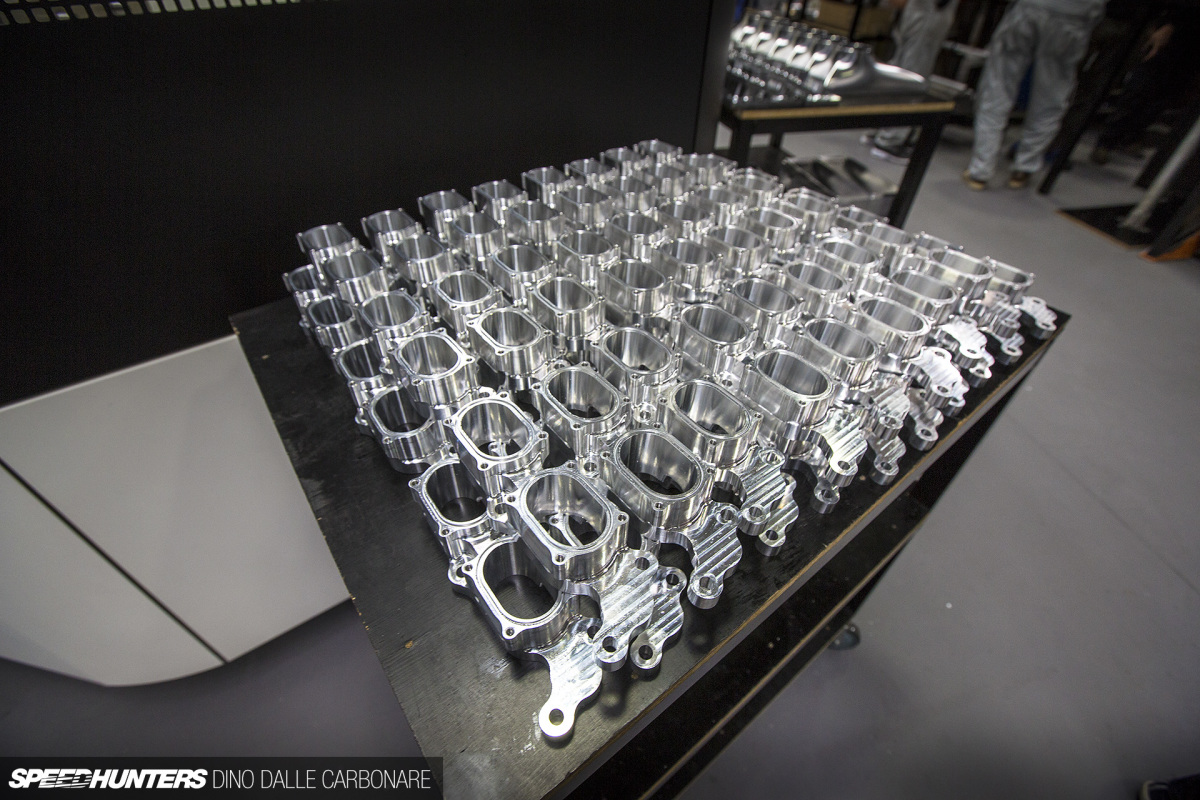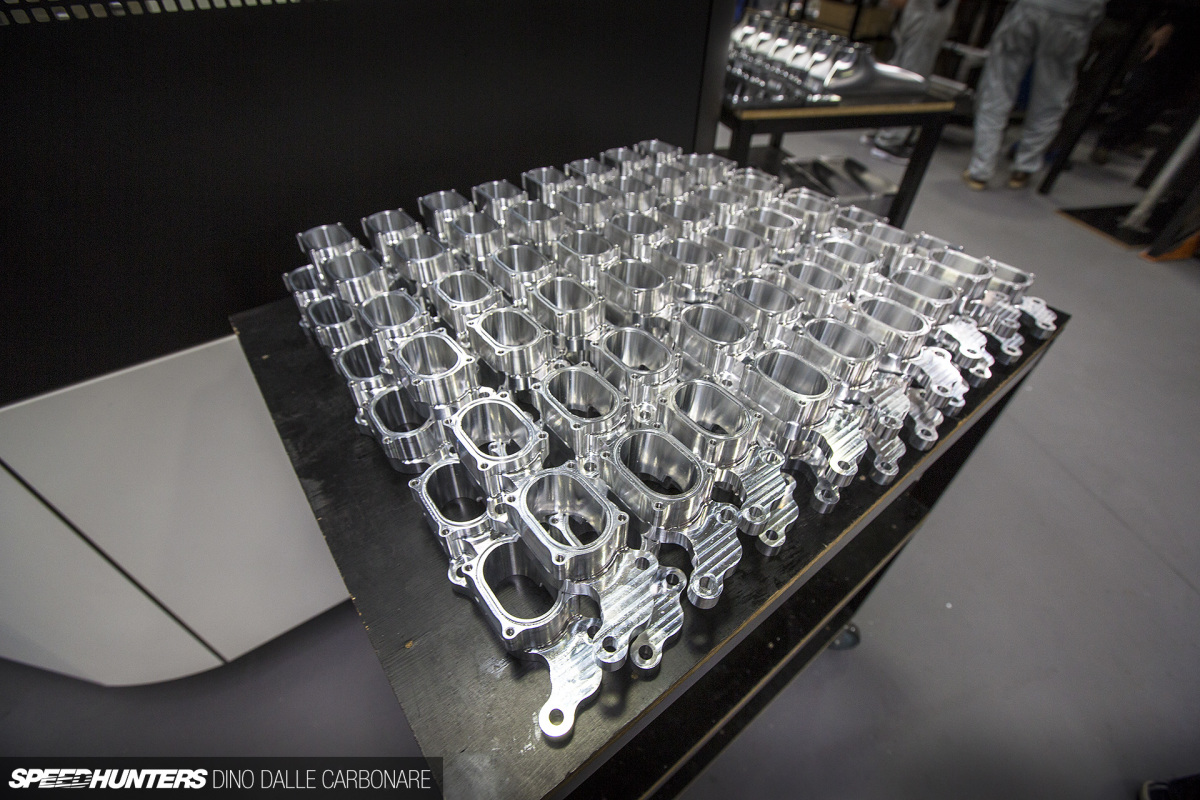 The runners eventually look something like this. I say 'something' because due to the flexibility in production, Hypertune can custom create any type of runner required: long ones, short ones, ones with pre-machined ports for one or two rows of injectors, nitrous – you name it. Anything is possible. And that's before we get to the coloring and finish, but I'll touch on that in a moment.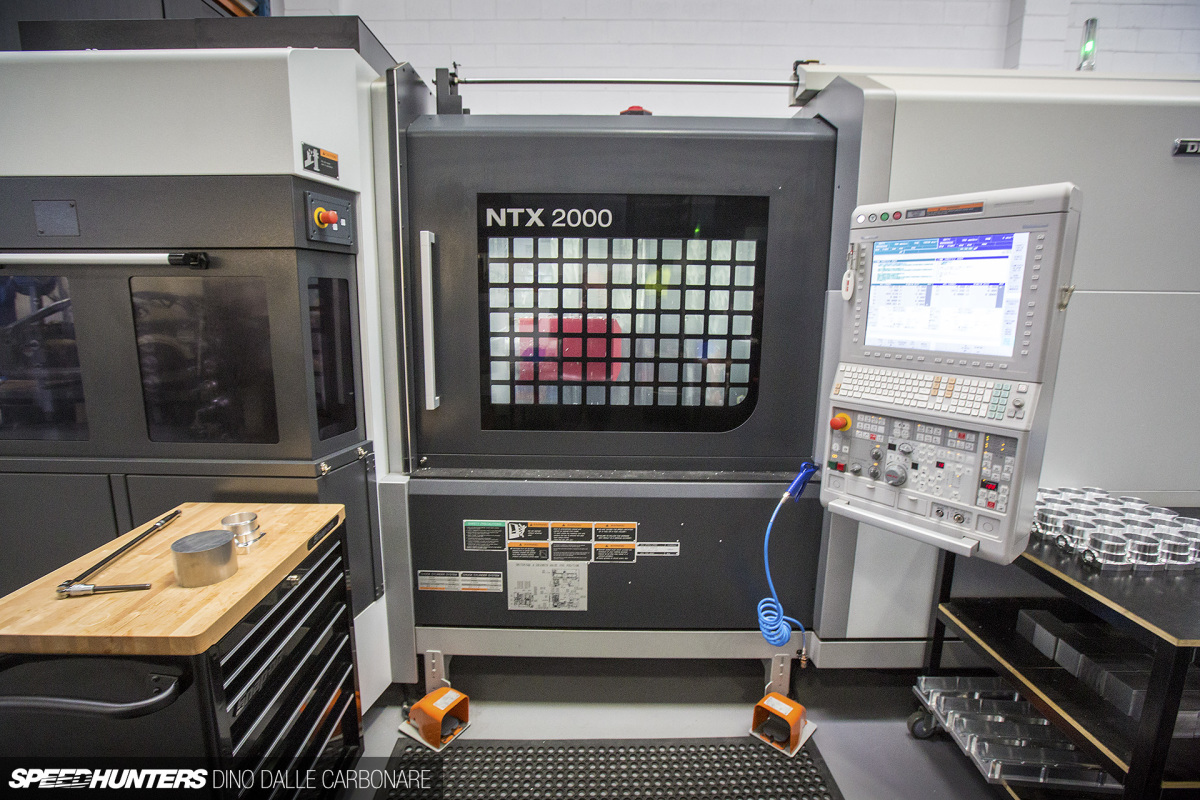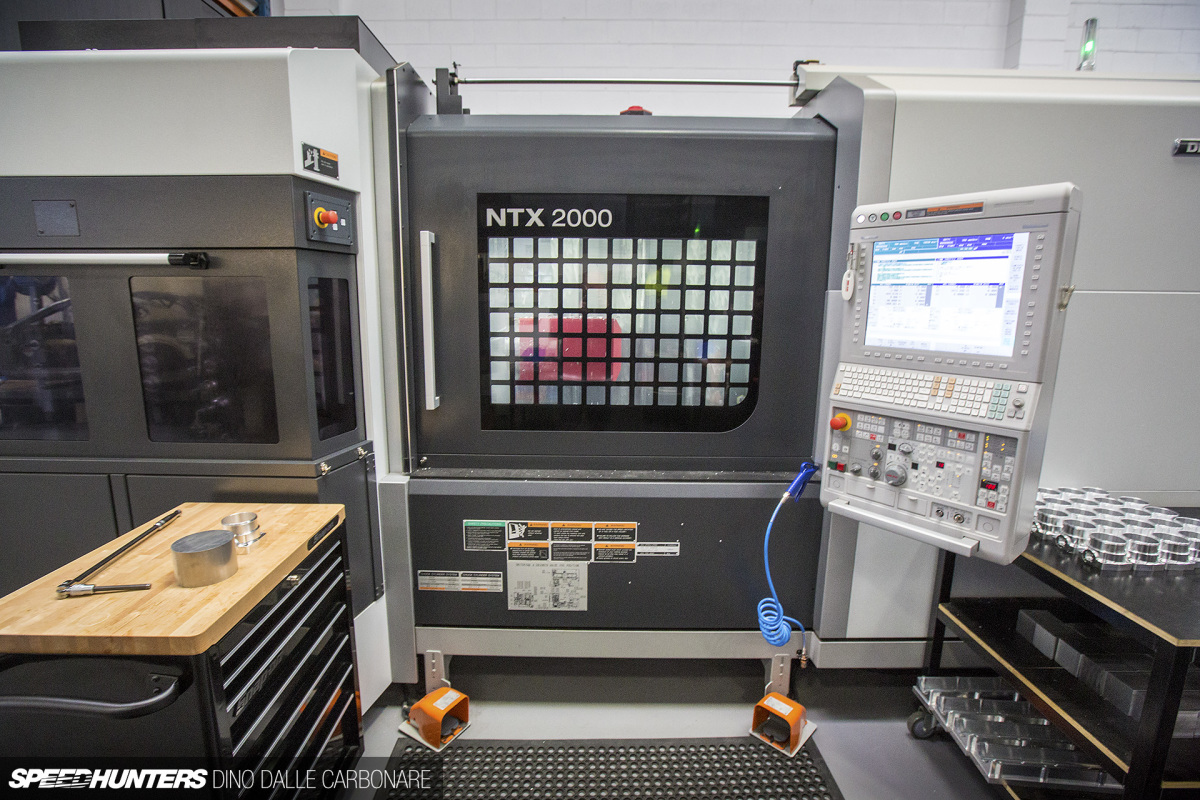 At the time of my visit, Mark had the NTX200 mill set up to churn out 90mm throttle bodies.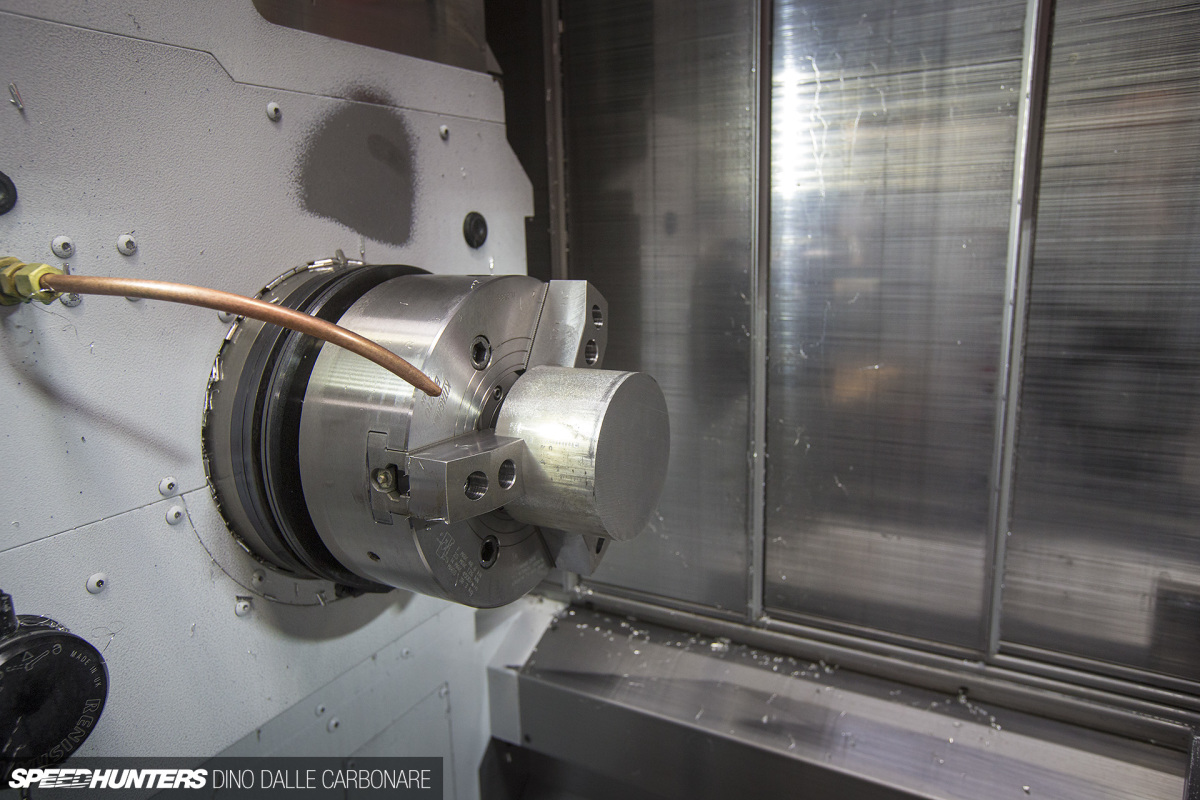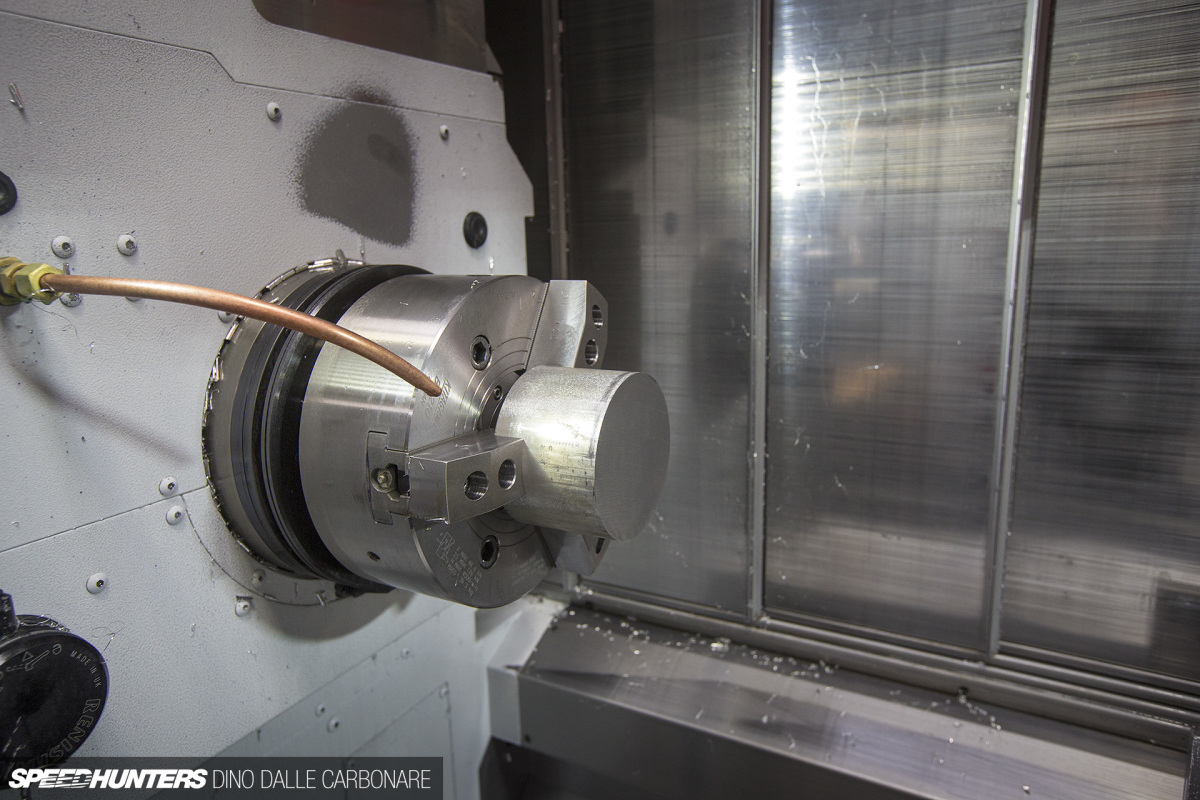 This machine has a double lathe so once the pre-cut length bar of aluminum is machined on one side…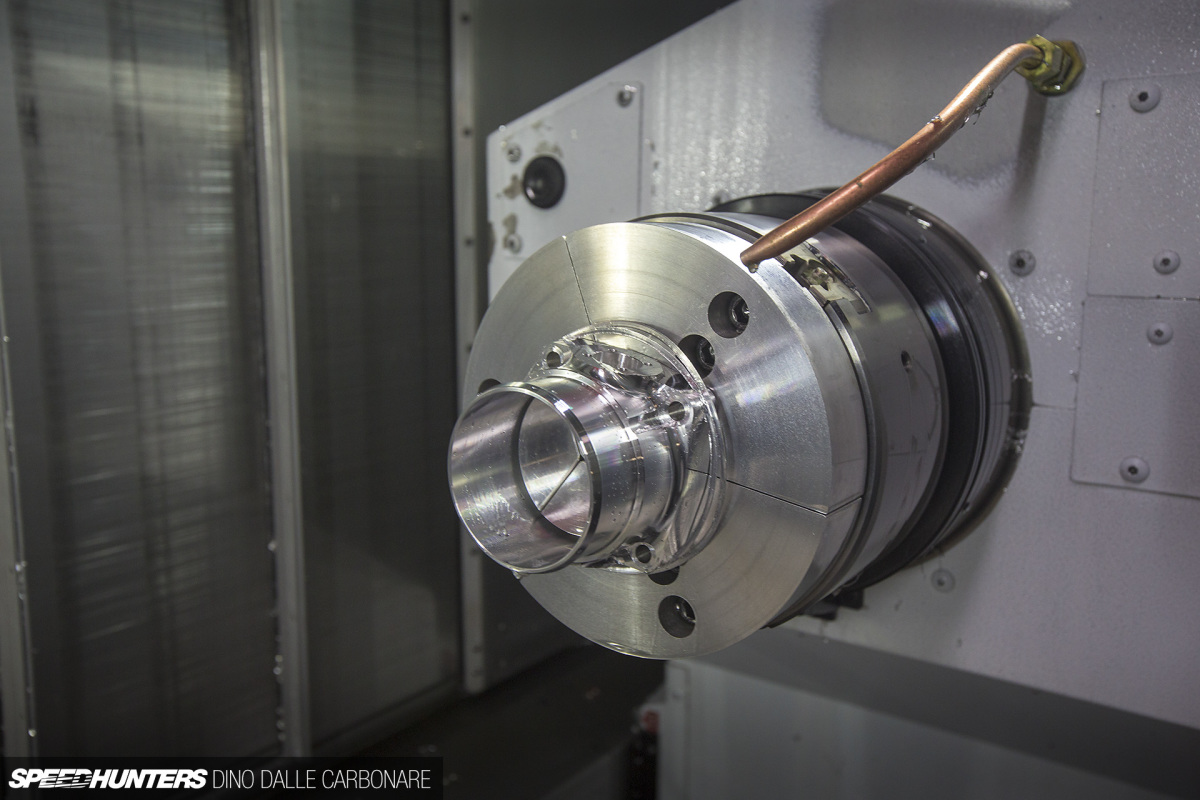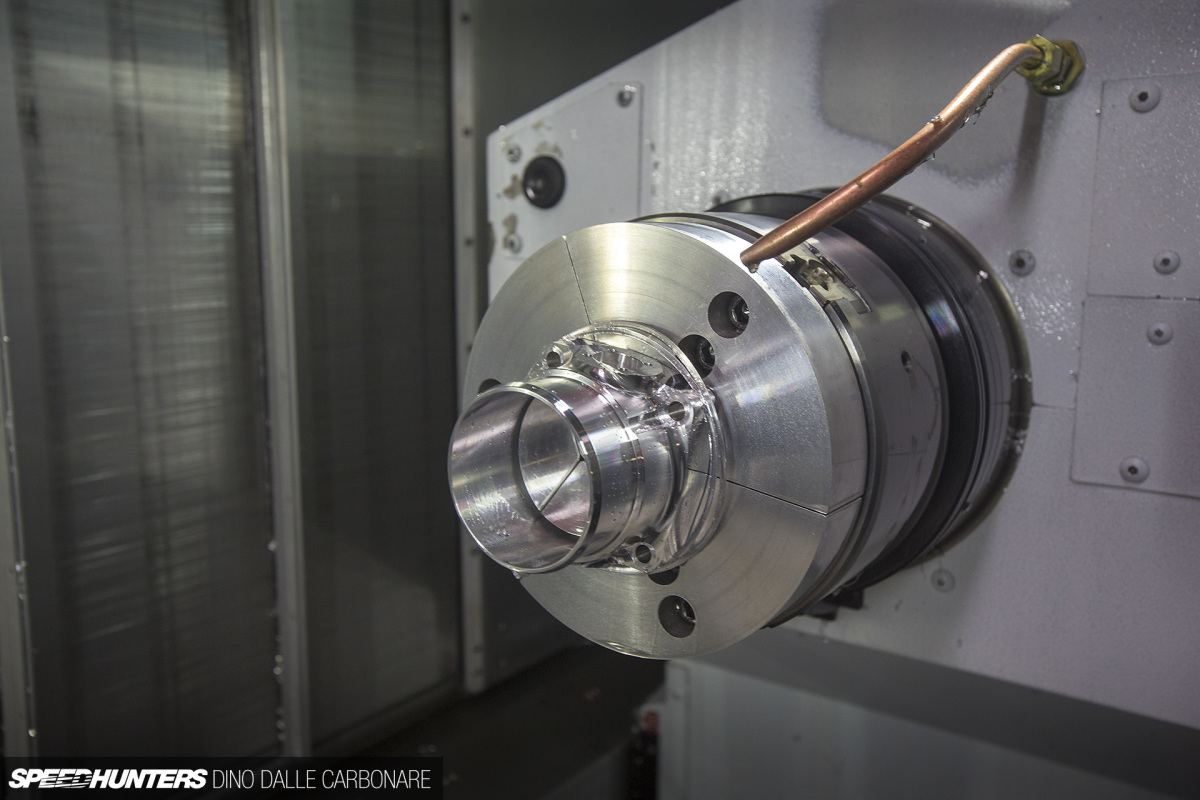 It's grabbed by the opposite side, and the spindle can then get in there and complete the other end of the unit.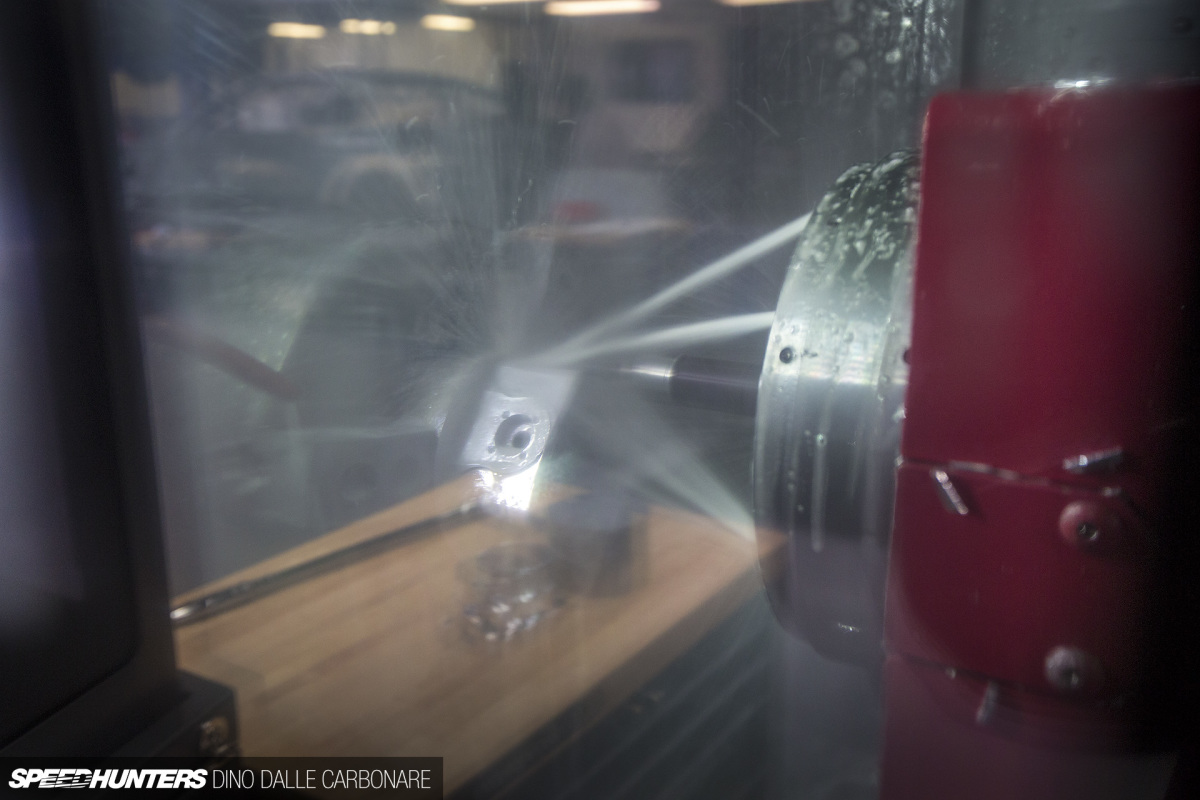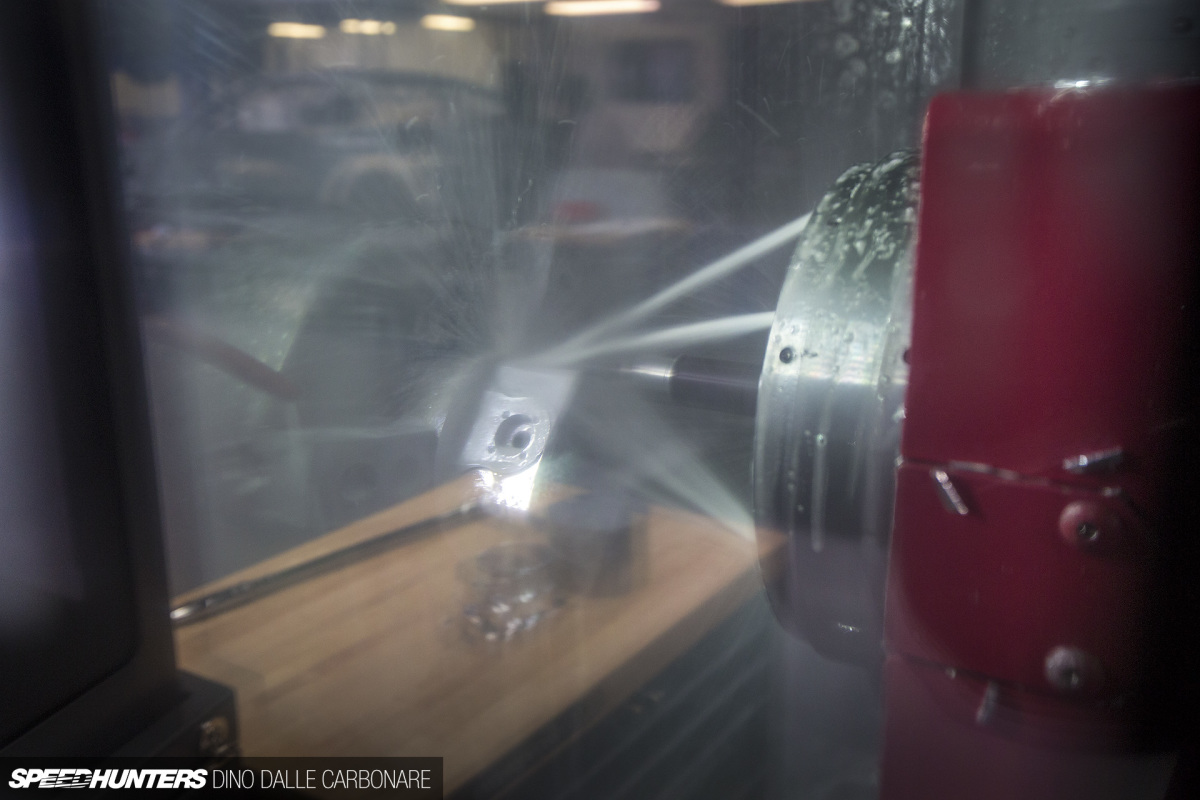 It looks like something like this as the water-based lubricant/coolant is sprayed onto the surface.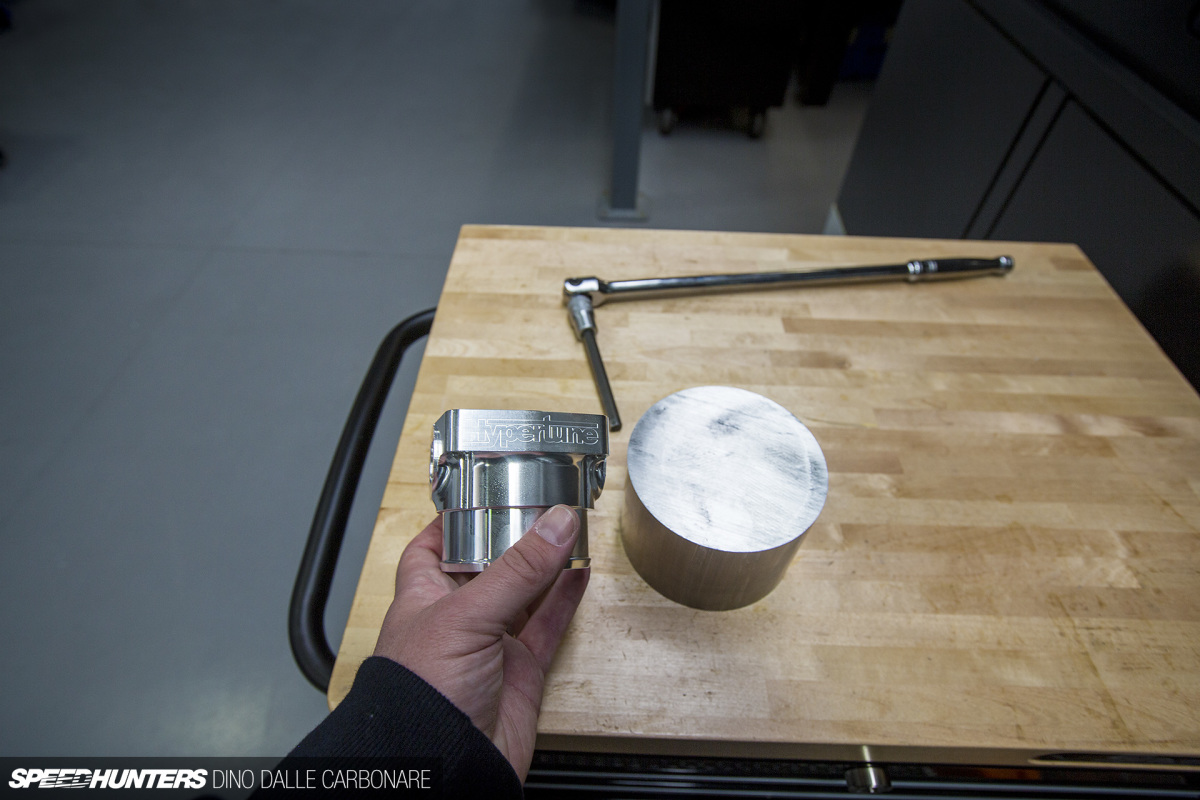 The before and after, a process that took all of five minutes to complete.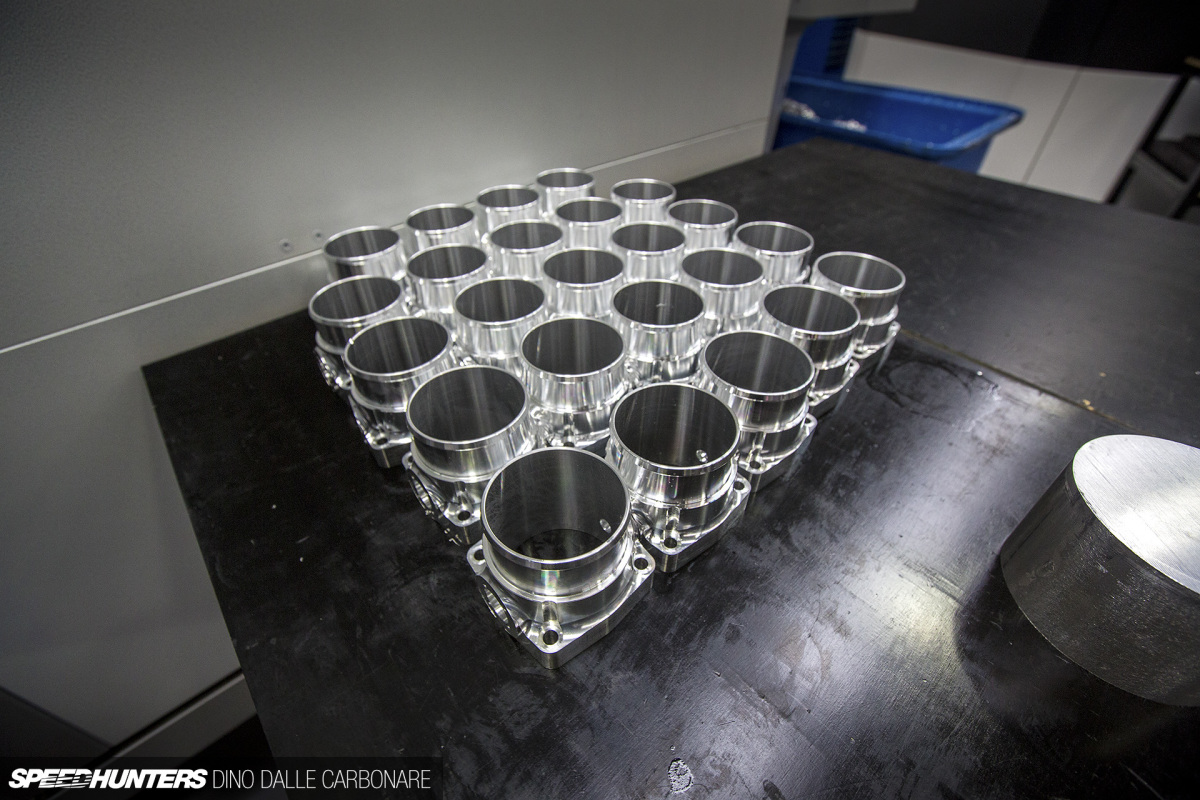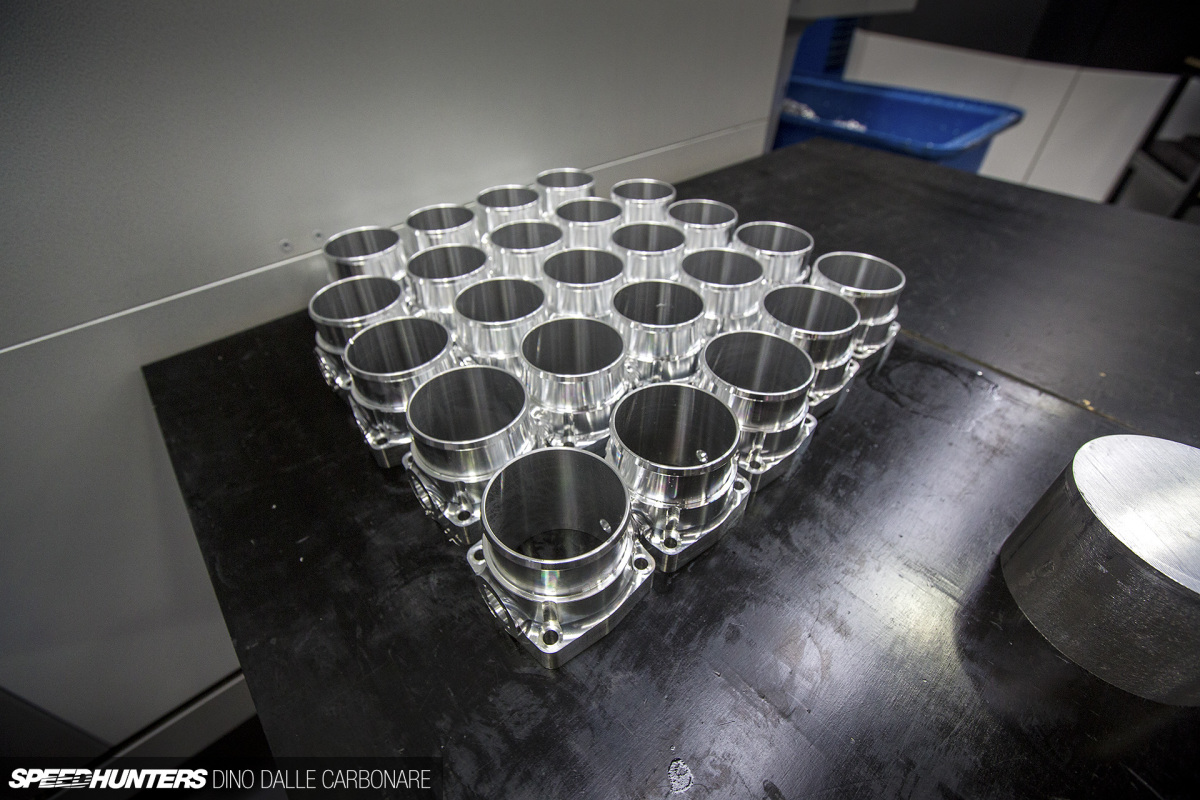 This is what the machine is able to produce in about an hour and a half.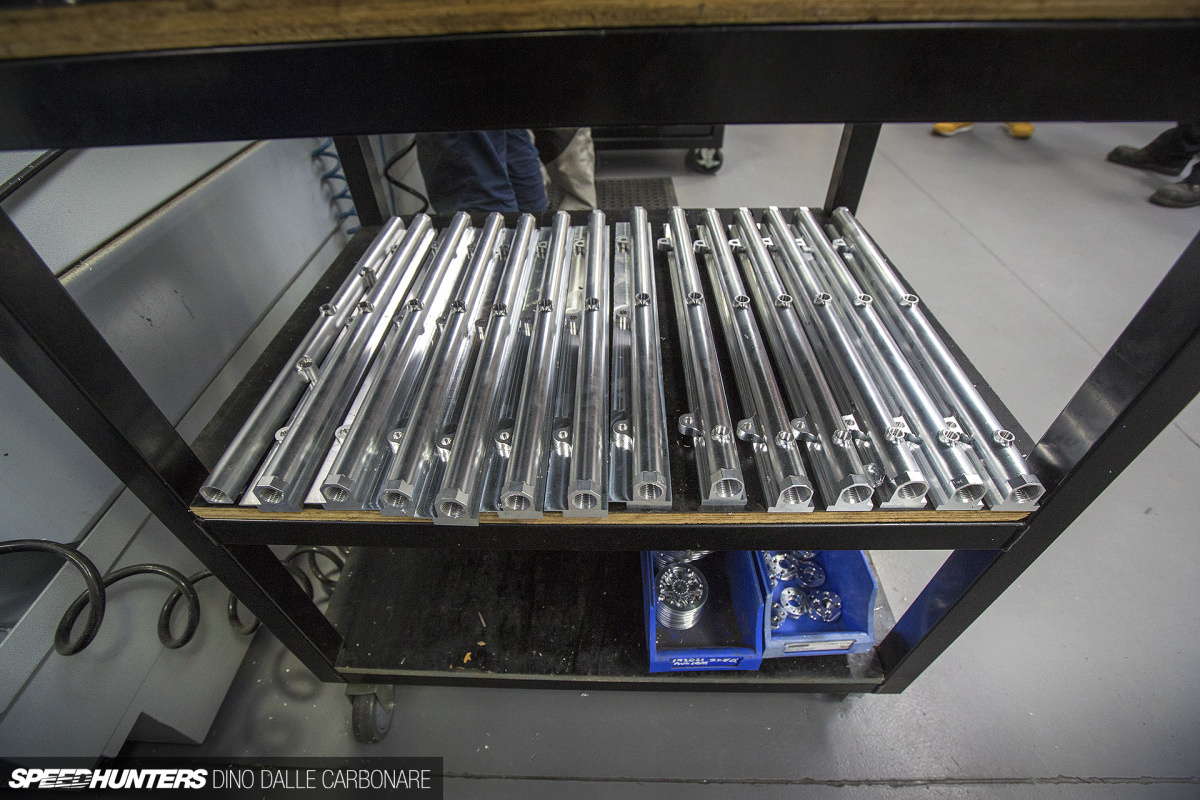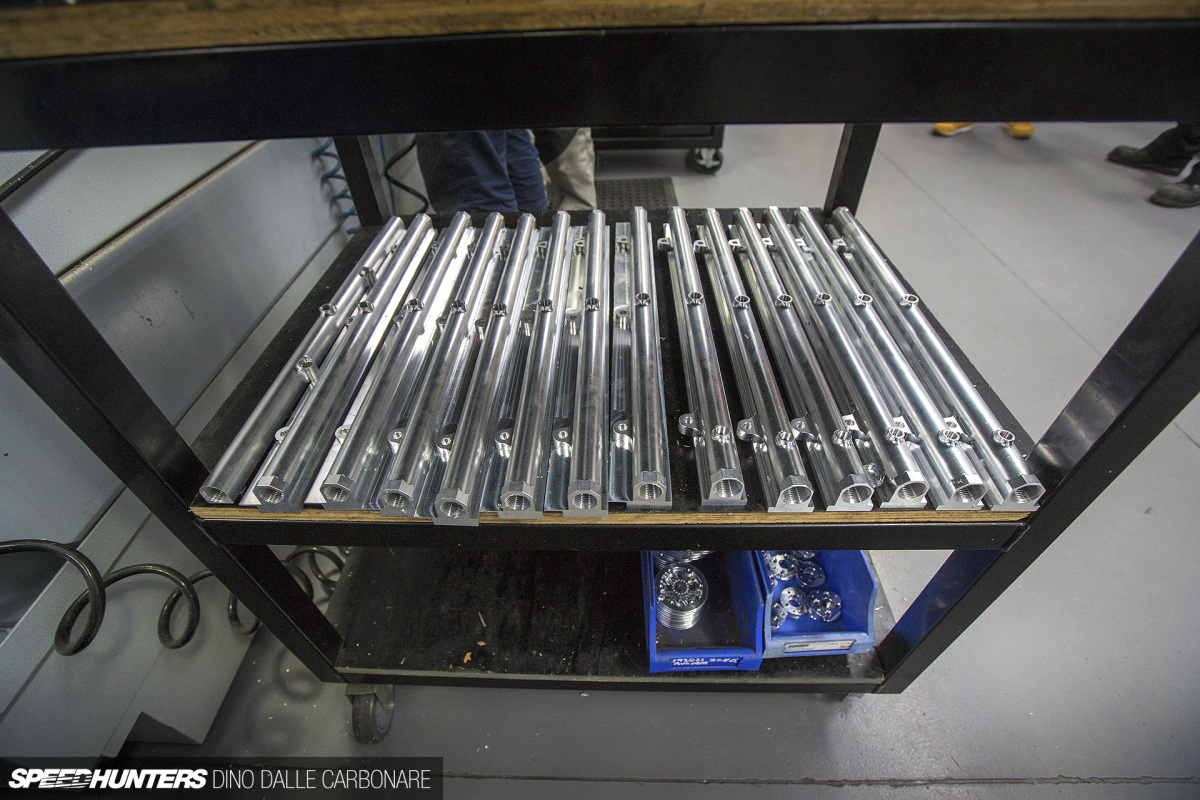 Hypertune's billet fuel rails are created in much the same way, and again you can specify any type of injector mount.
CHAPTER TWO
Unparalleled Quality
As soon as I came inside the shop, I noticed a very familiar car. I actually shot Beau Yates' AE86 six years back, before it had that rather bad shunt, but now it's looking better than ever. Beau was over at Hypertune to fabricate a custom seat mount for the driver's bucket to allow Keiichi Tsuchiya to sit comfortably in the car and complete a few demo laps at the World Time Attack Challenge.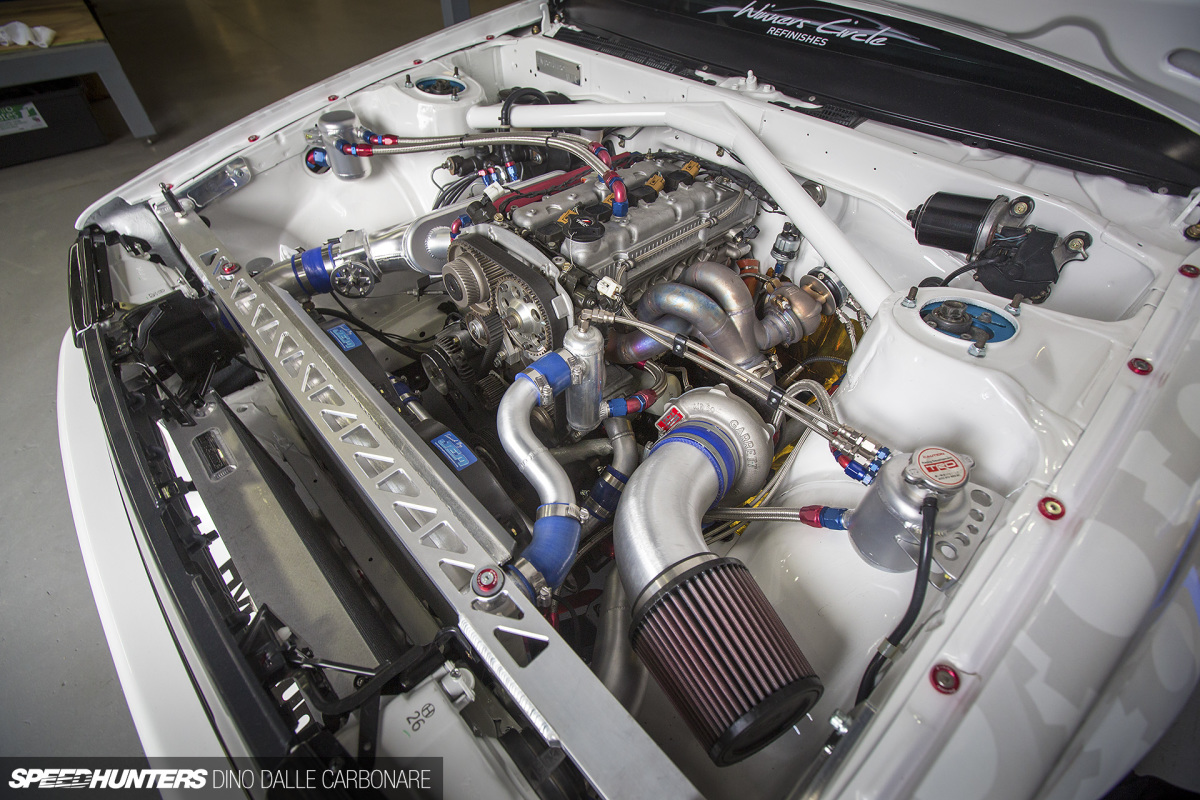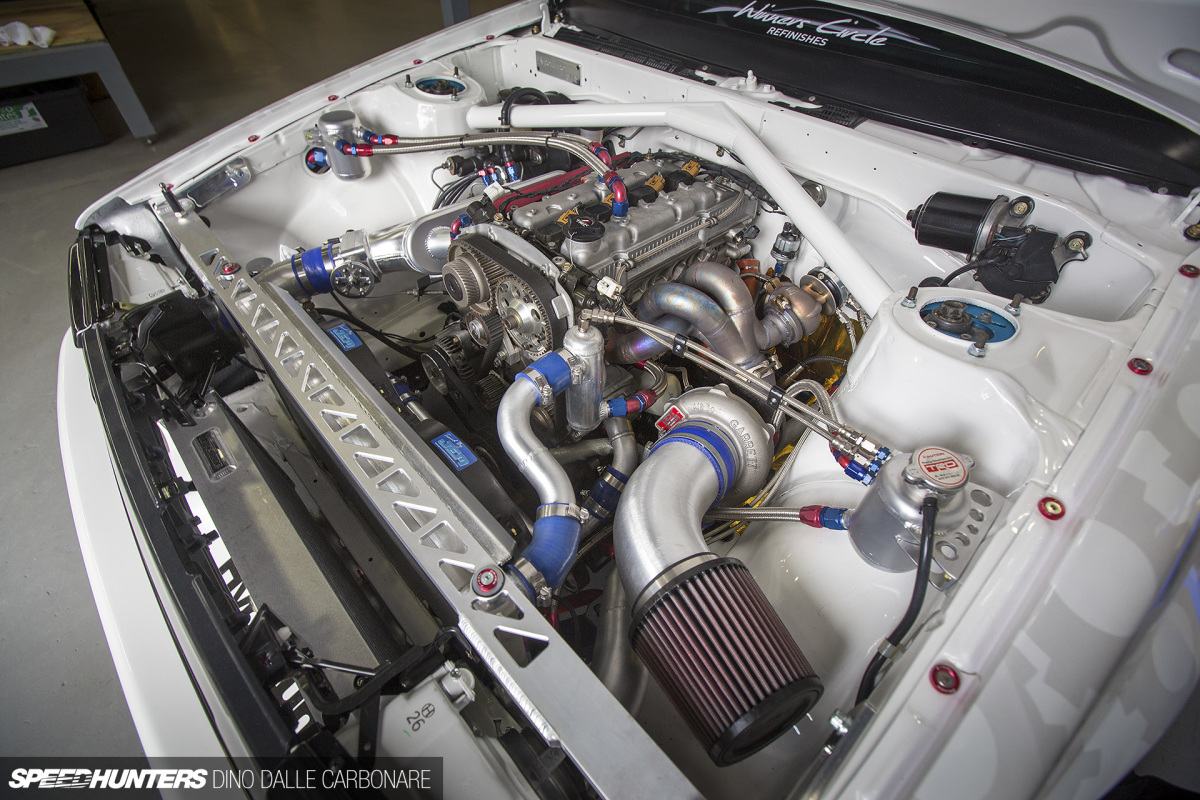 Can you spot all the Hypertune bits under the bonnet and around the 3S-GTE swap?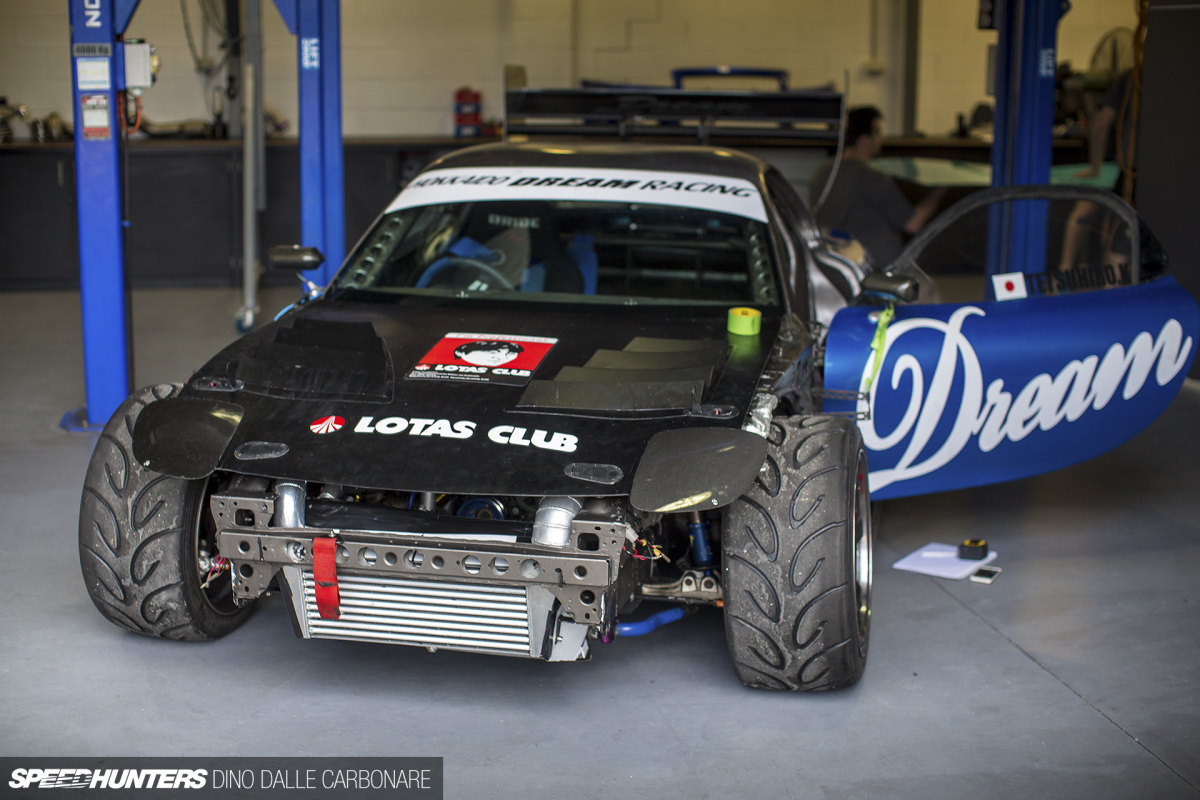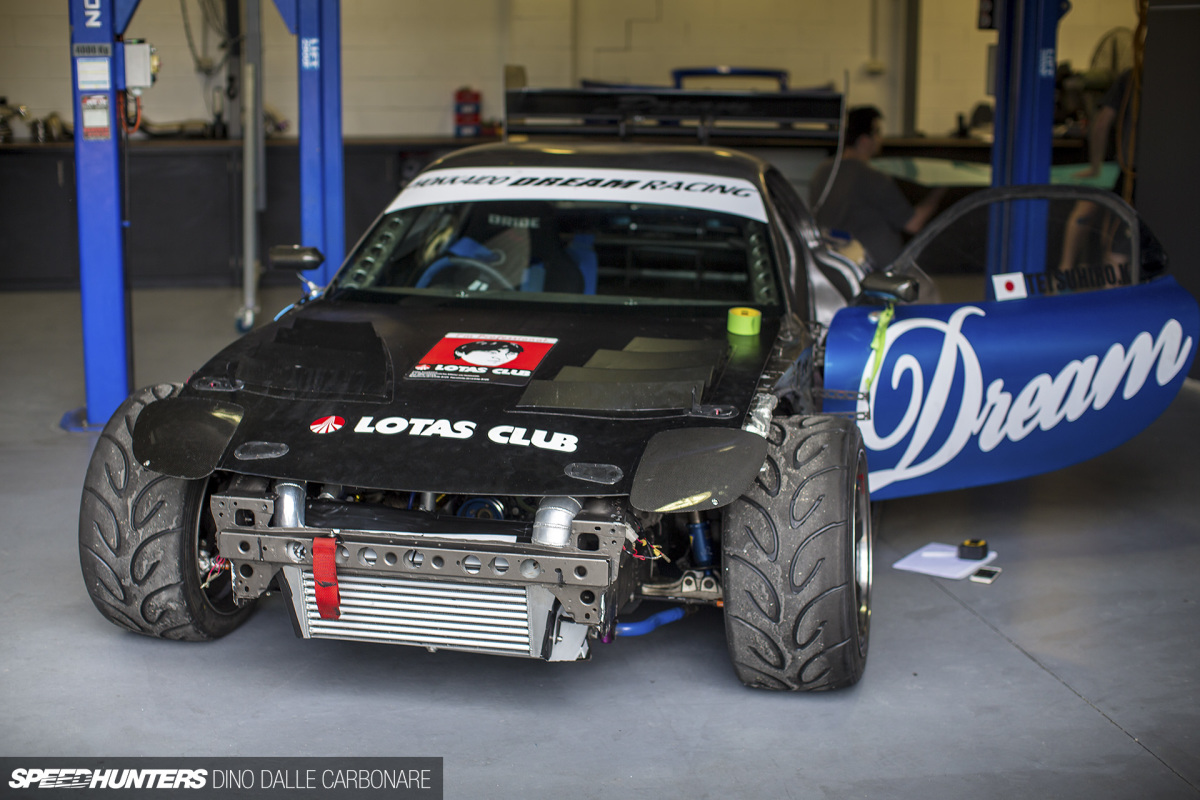 My visit to Hypertune came straight after one whole day spent at WTAC practise, and it seemed I wasn't the only one that had made the drive from Sydney Motorsport Park. Car Shop Dream had brought over its FD3S Mazda RX-7 to get an aluminum cover for the fuel cell mounted in the passenger side of the cockpit. The car had failed tech inspection, so the team had to get this issue resolved, something Hypertune was able to do quite quickly after measuring, cutting some aluminum sheets and welding it all up.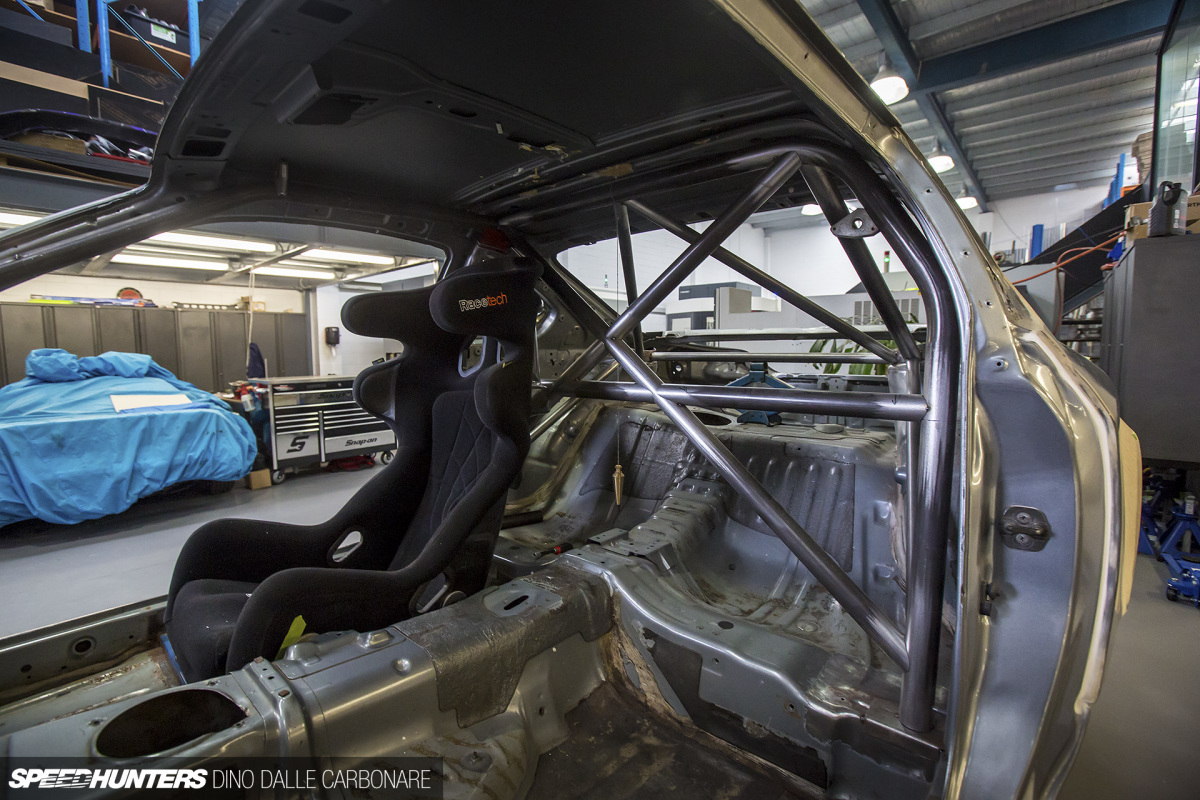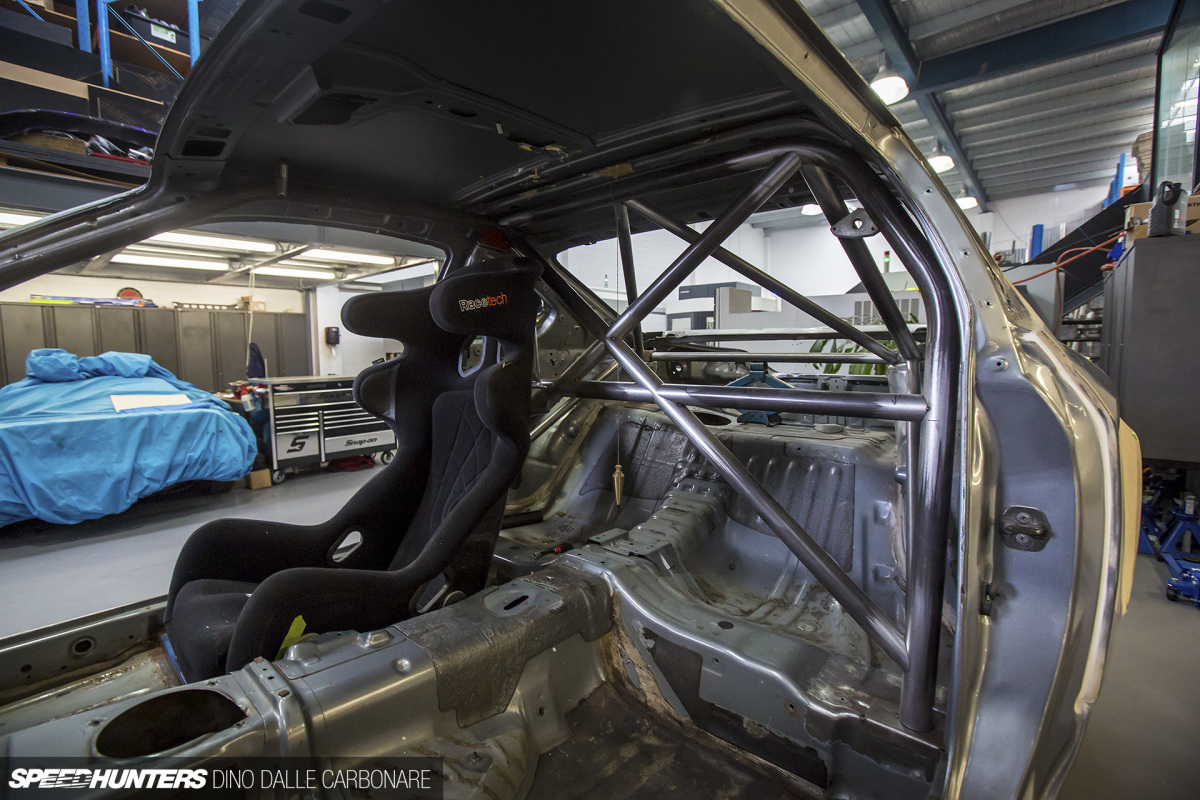 Another service that Hypertune offers is roll-cage fabrication, and there was an S15 chassis right in the middle of some pretty serious bar work.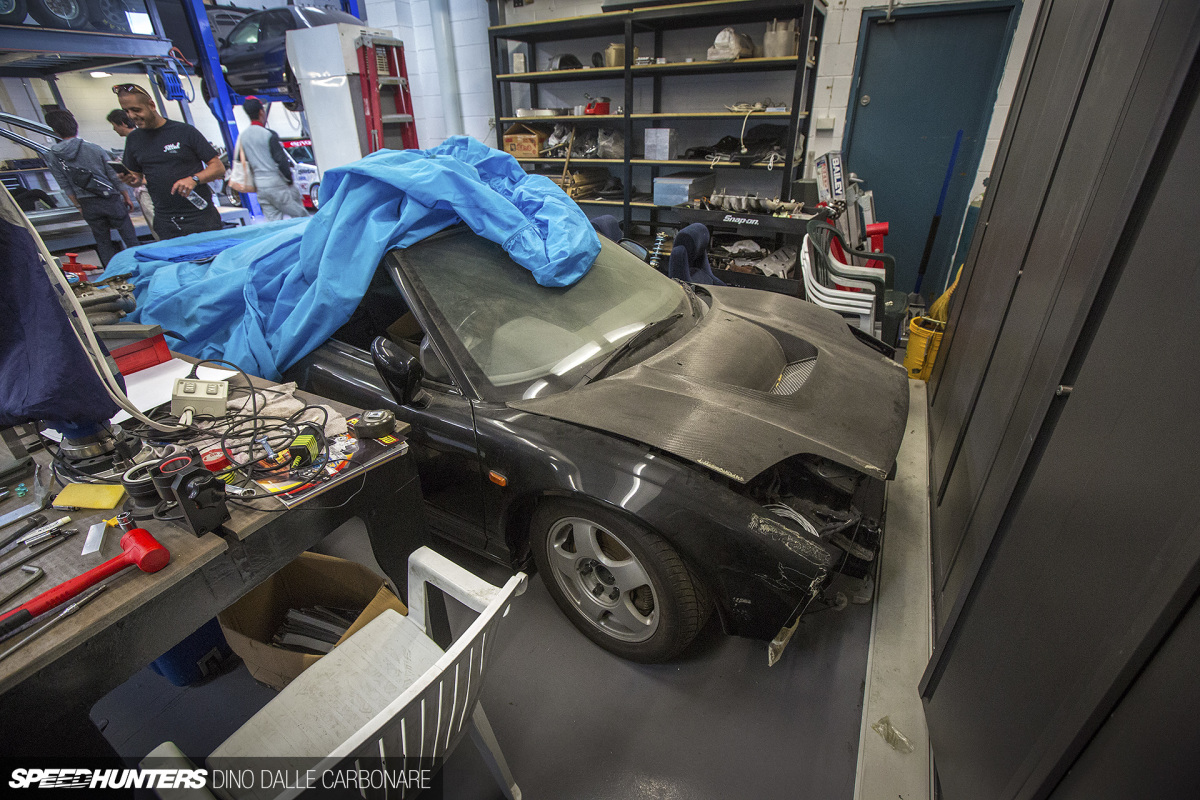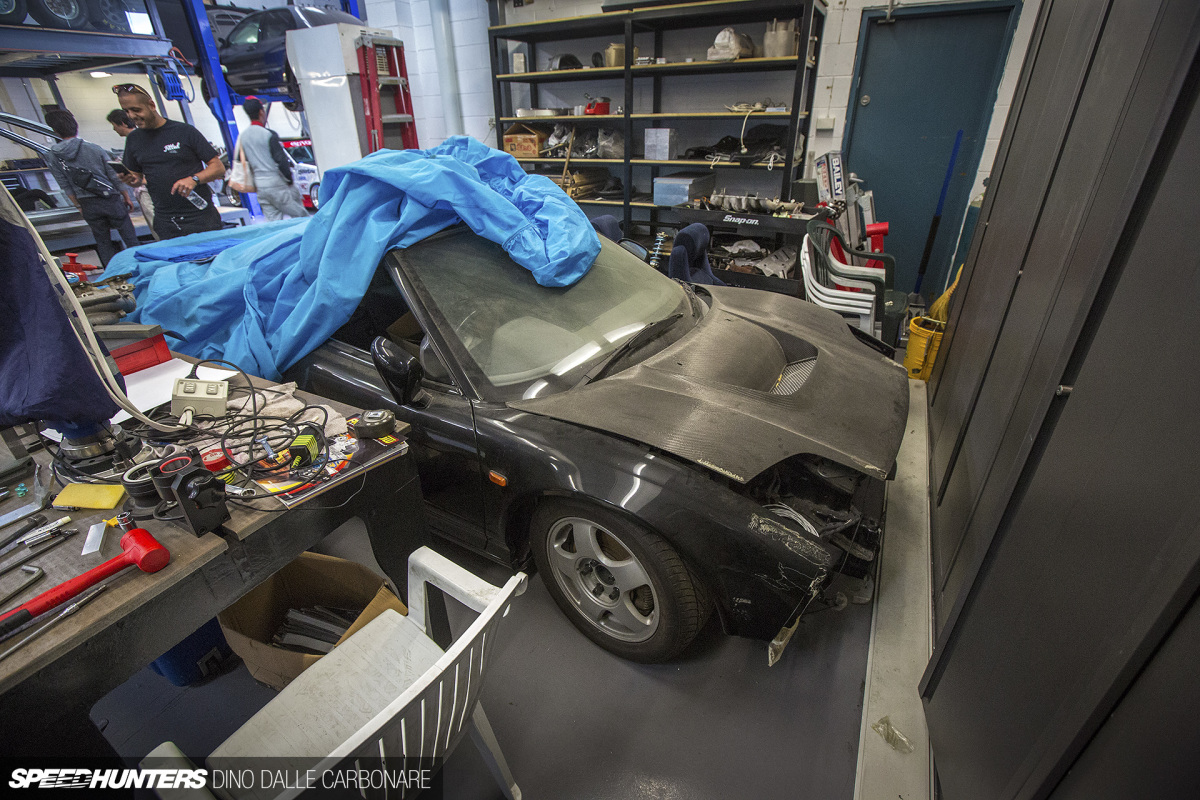 In a little corner of the workshop I spied a car under a cover and had to ask Mark what it was. It turns out this is his personal project, which Mark plans to dedicate some attention to when he has some spare time. By the way things are going at Hypertune, I don't think he's going to have much of that any time soon though!
You can look at Hypertune parts all day, but they only really make sense and become even more drool-worthy once fitted to the engine they've been designed for. Oh, and Hypertune's low-profile 2JZ cam covers are to die for!
I was surprised to see that the guys prep custom radiators too. Hypertune is well known for the quality of its fabrication and especially welding, so it's actually not surprising there are requests for different products.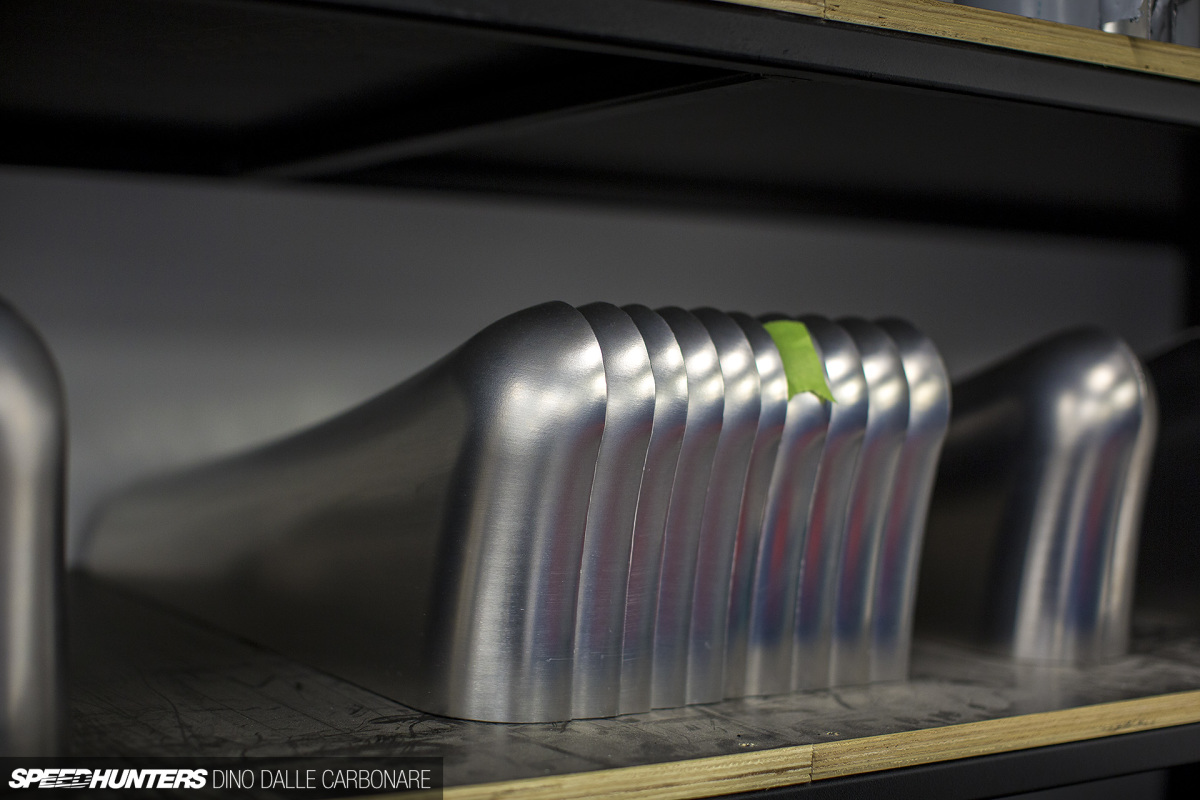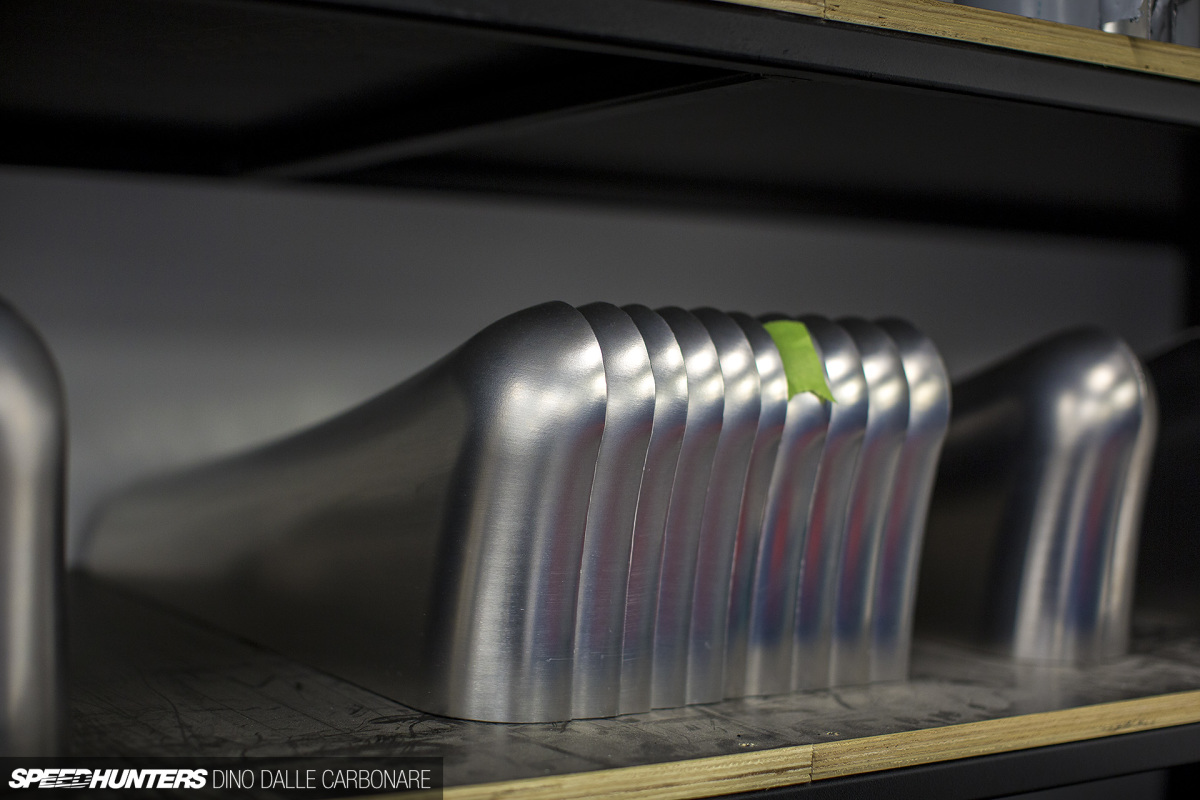 Going back to Hypertune's plenums for a moment, here you can see the aluminum halves staked up on the shelves in the fab room.
This video shows how the TIG welding penetrates along the seam. Mitch, the guy who's welded every single Hypertune plenum, lays down perfect beads; they look like they've been done by a robot, not a human!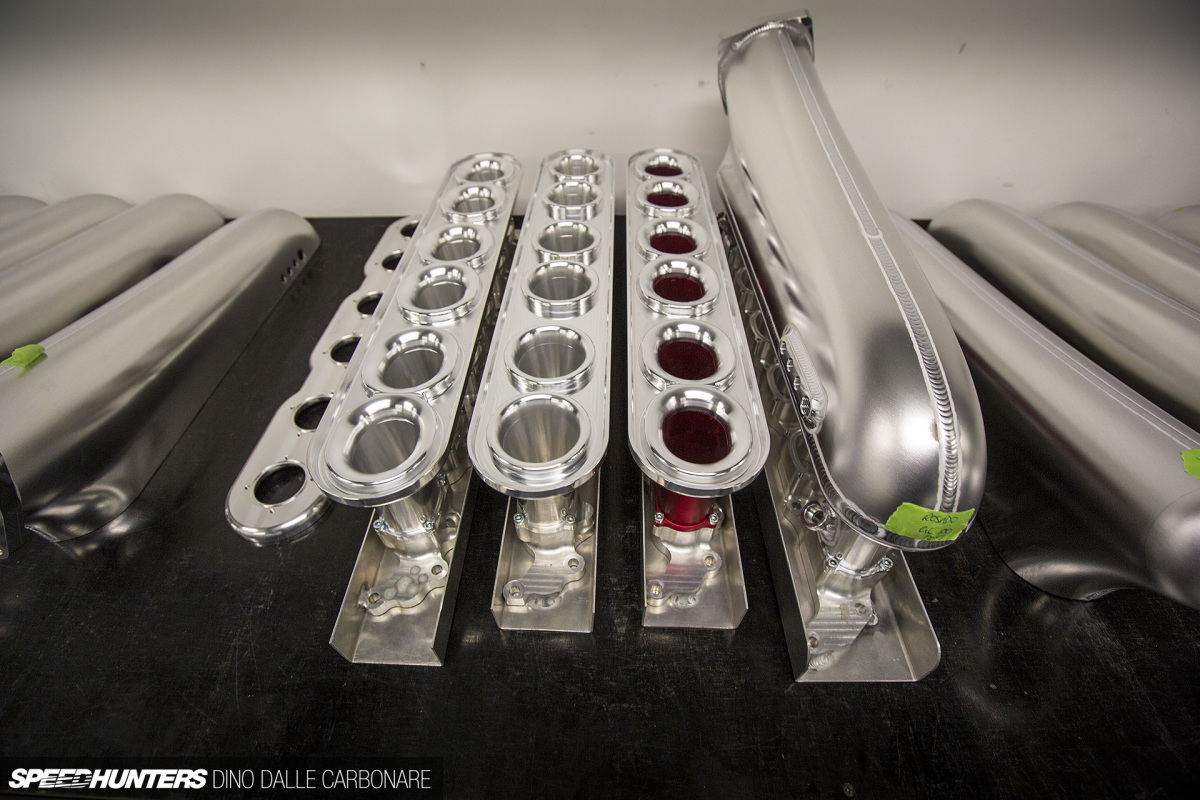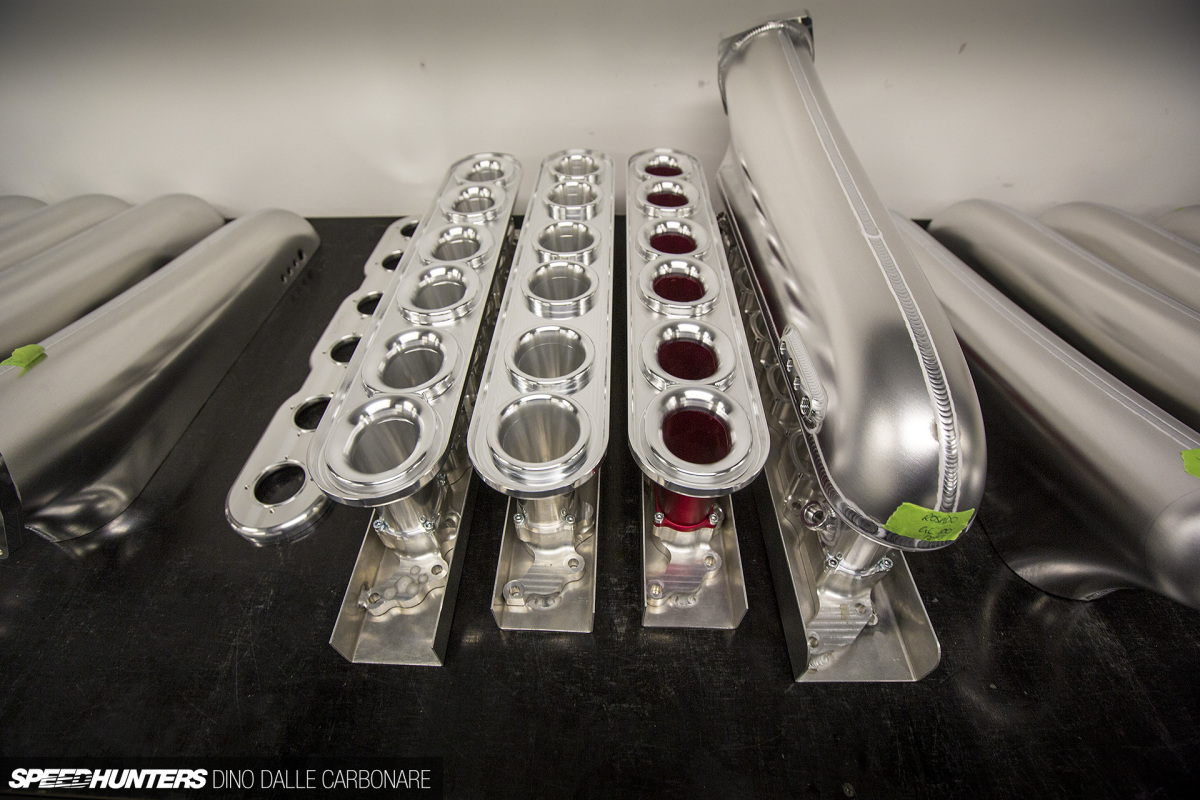 And this is what the finished piece looks like. Along with the center weld, there is also welding around the runner section that needs to be done.
Since we are back talking about runners, I thought I'd add this video showing the port roughing made to RB26 runners. Notice the mounts for a twin fuel rail setup.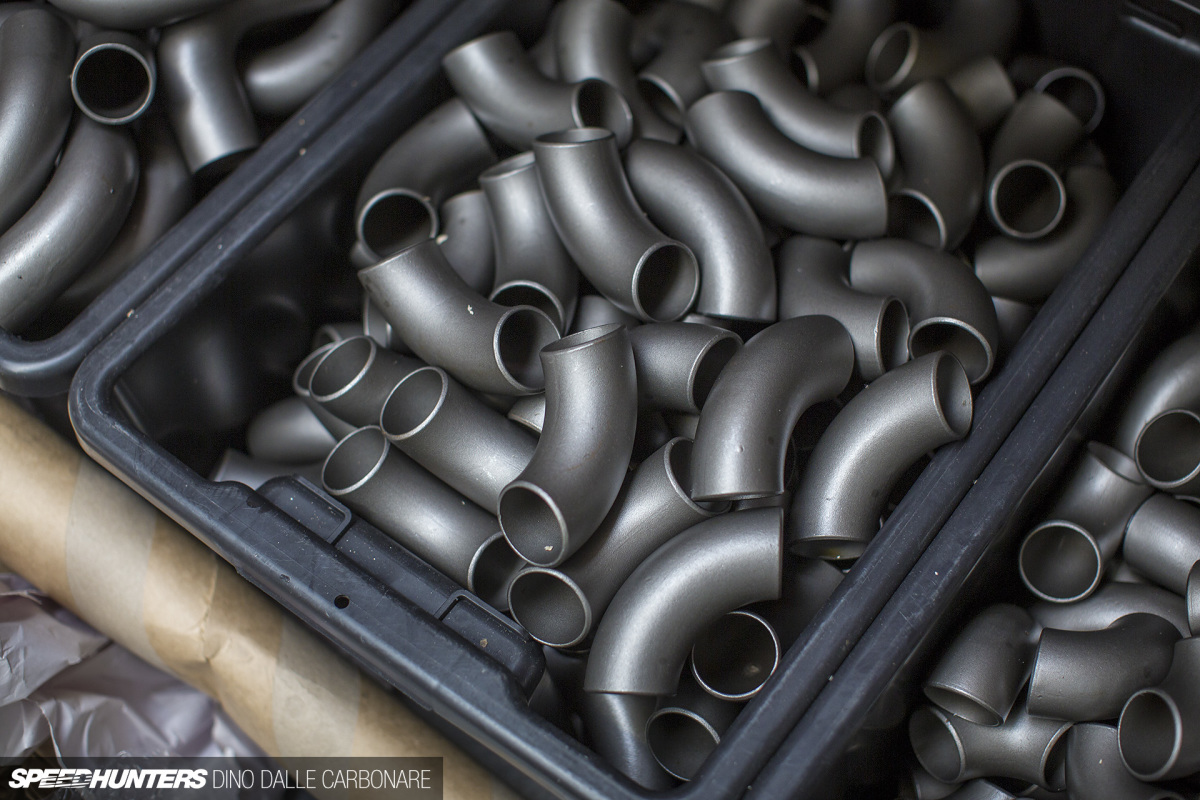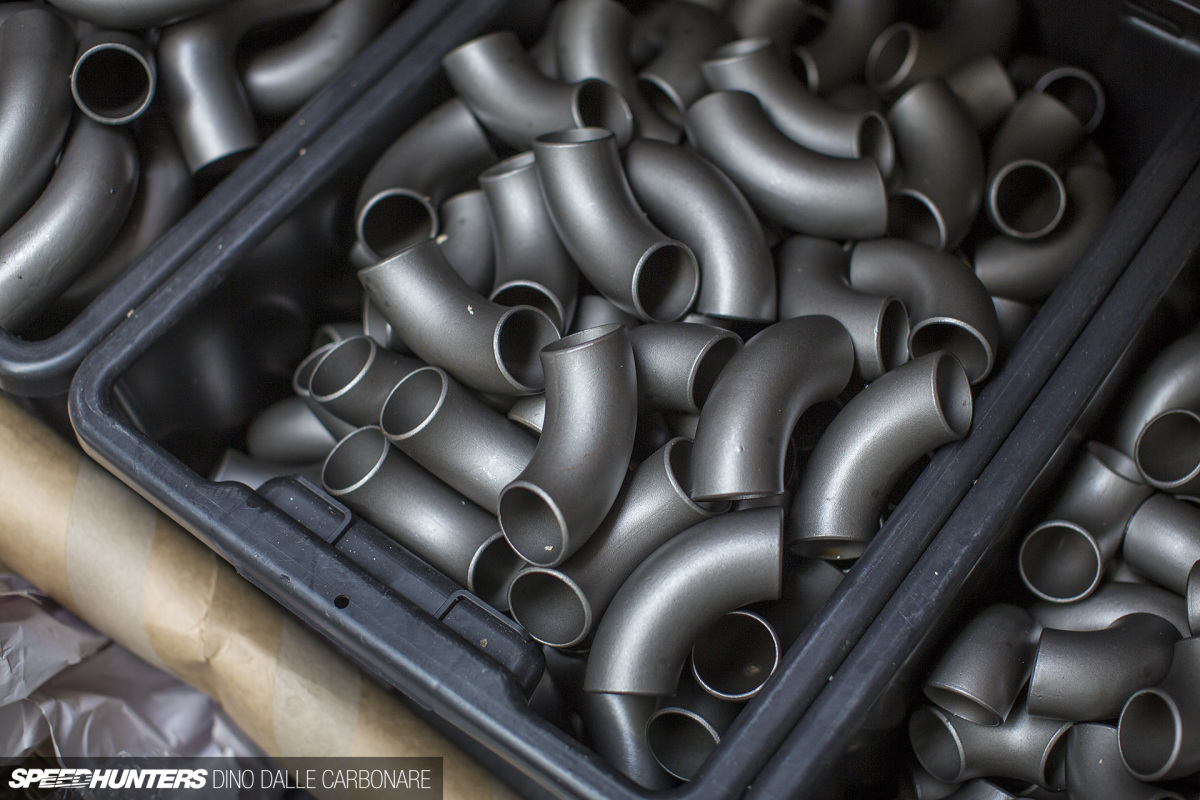 It's not just about the intake side of the engine, Hypertune has you covered on the exhaust side too.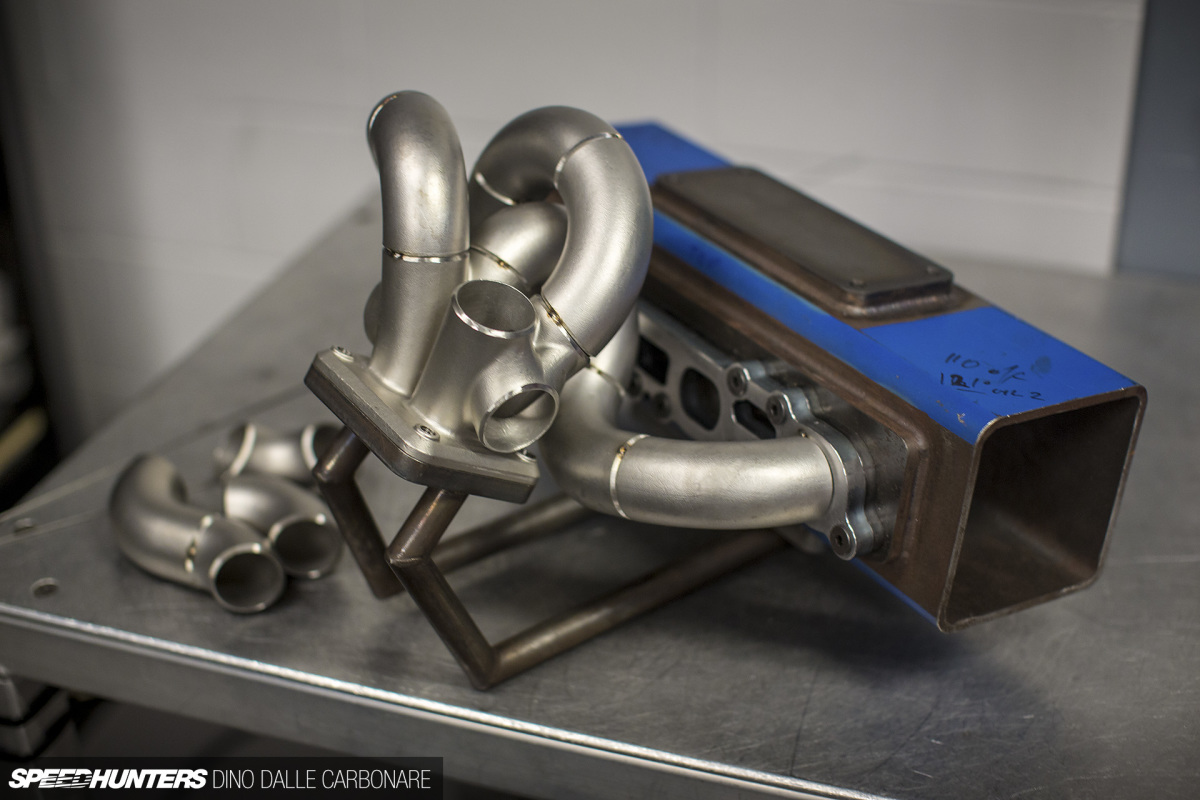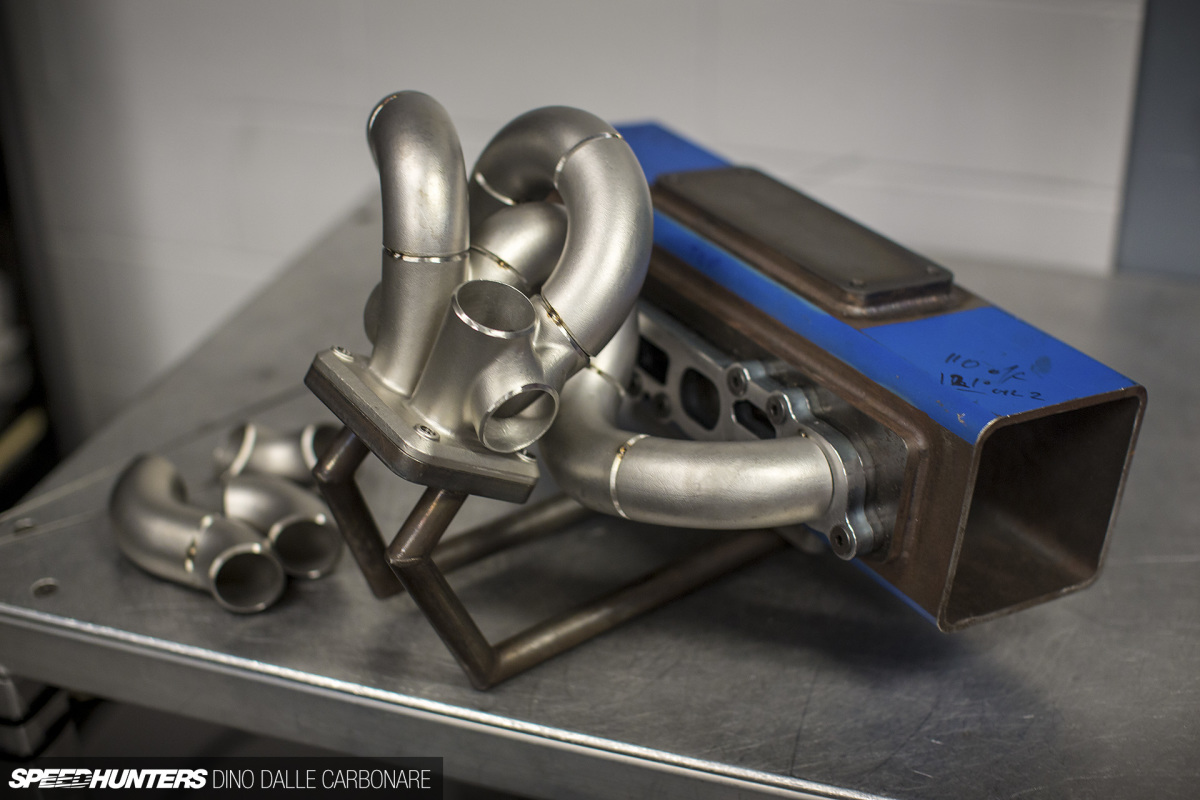 When I dropped by, the guys were working on putting together a 4-into-1 with single wastegate header for a Lancer Evo motor.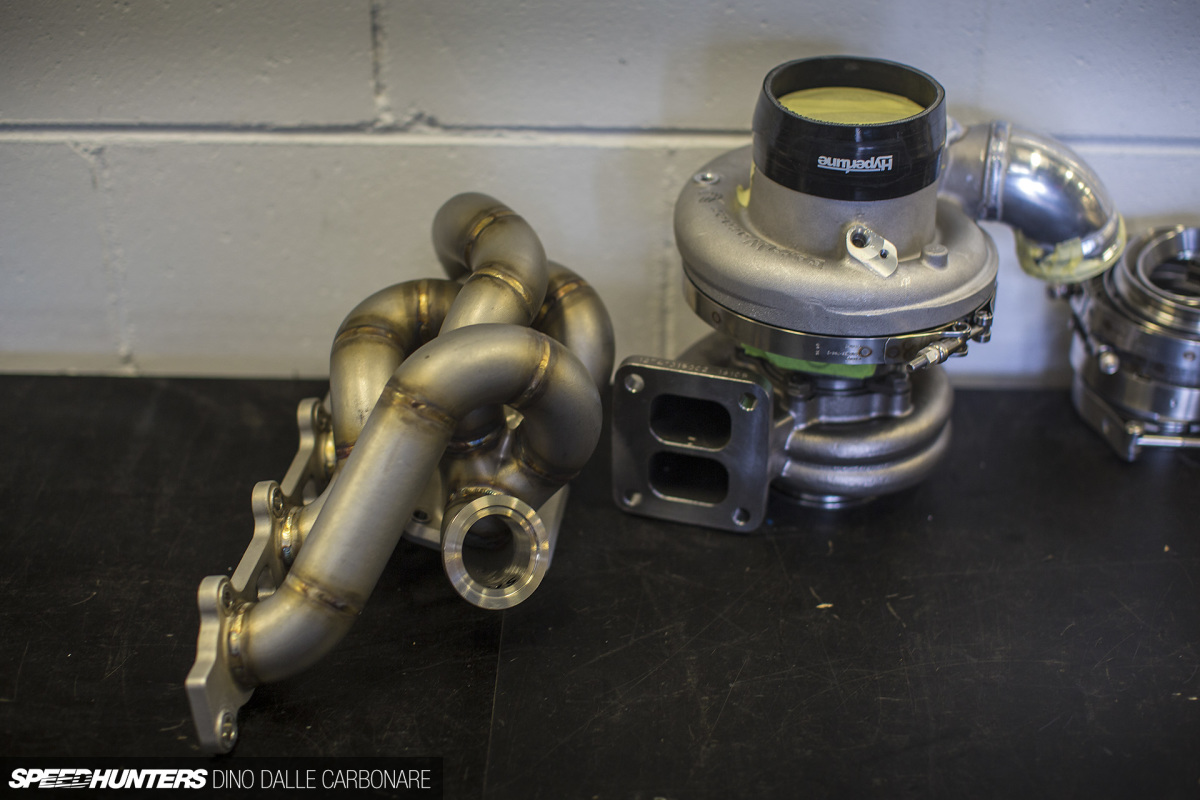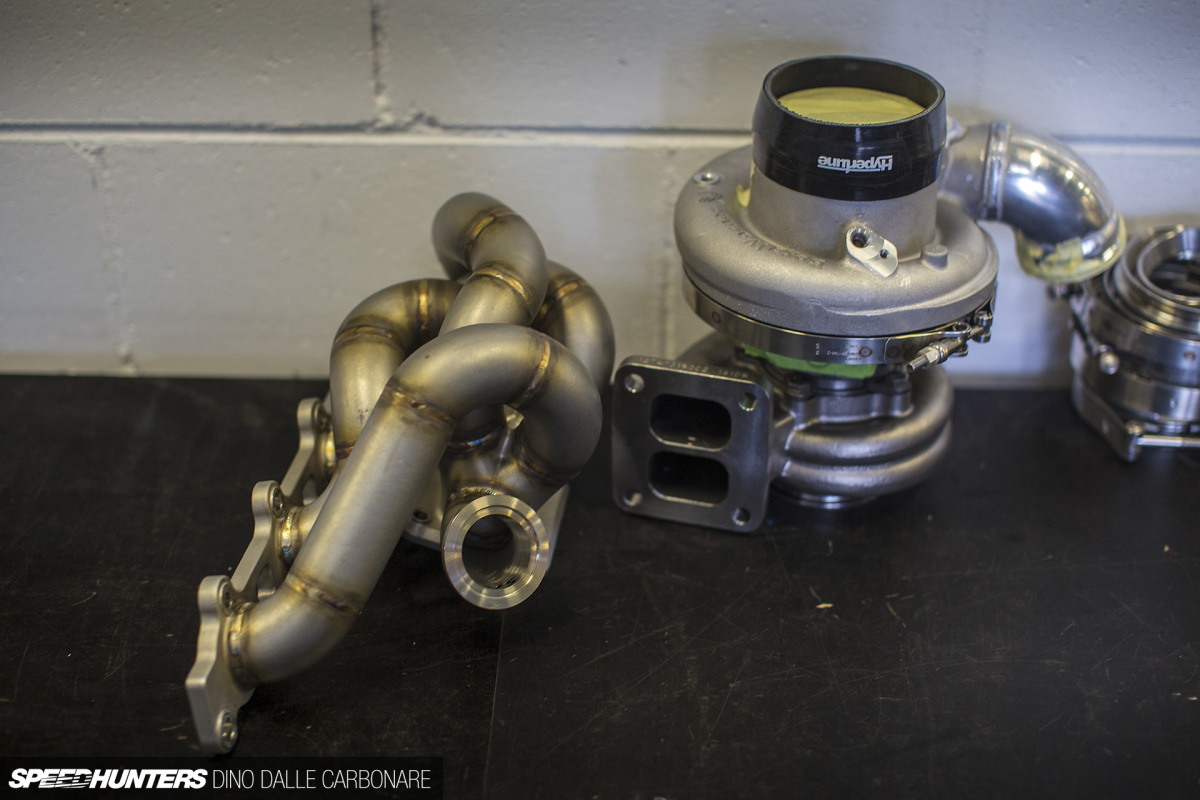 Here's another one for a BorgWarner EFR twin-scroll application. I just love how everyone in Australia likes big power!
FINAL CHAPTER
Mix & Match At The Candy Shop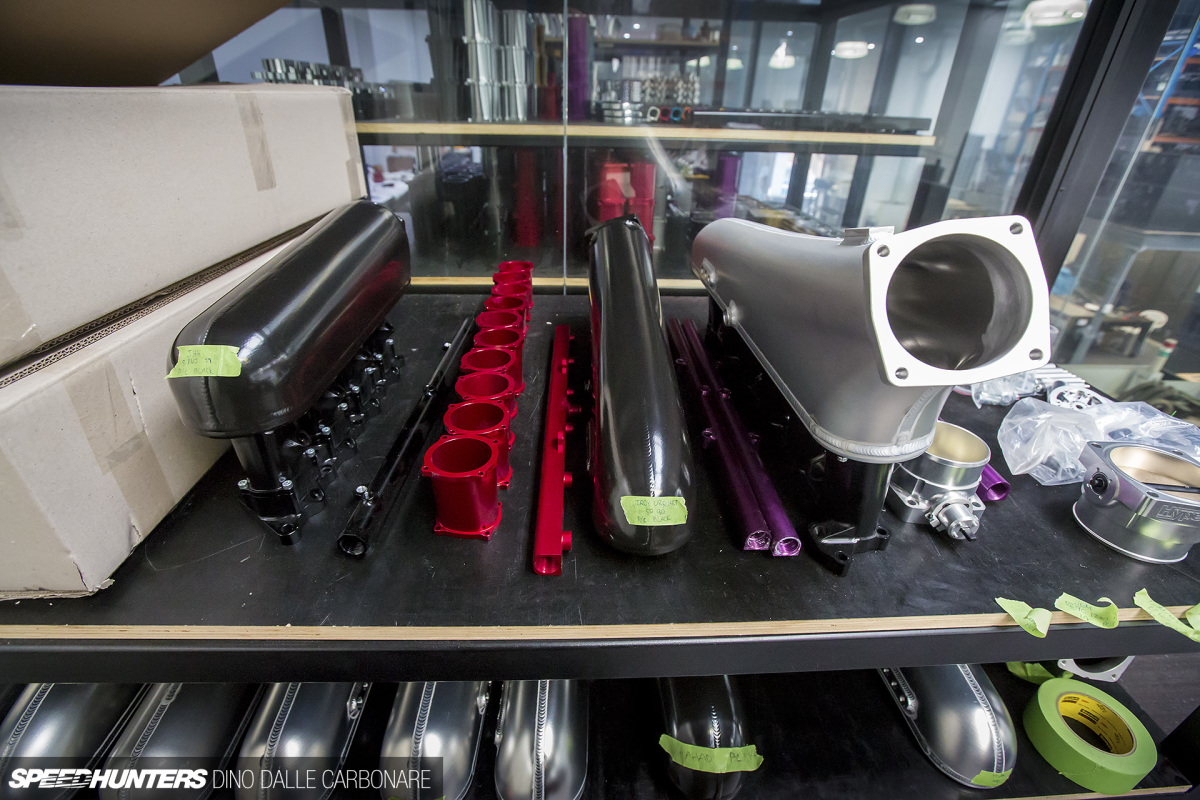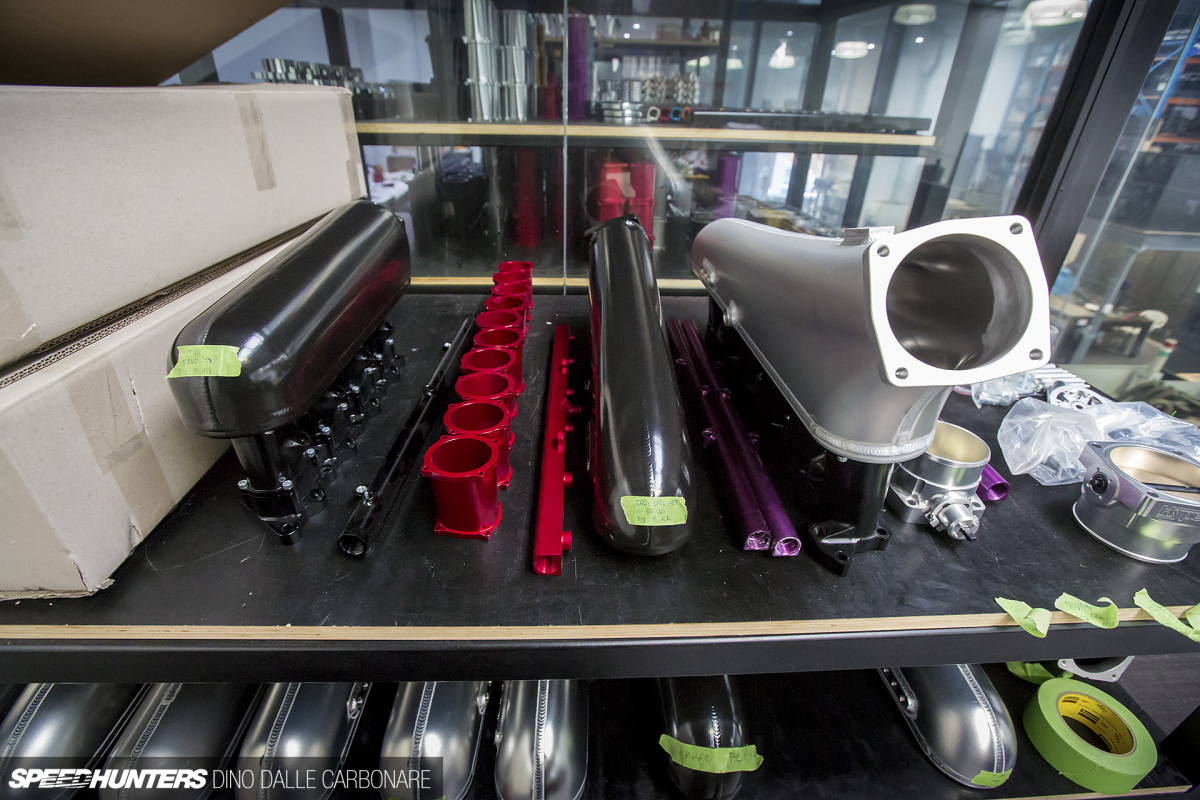 After fabrication is complete, it's on over to the presentation side of things. Here Hypertune offers a few powder-coat and anodizing options so people can color-coordinate their plenums, runners and fuel rails.
The office upstairs is the candy shop.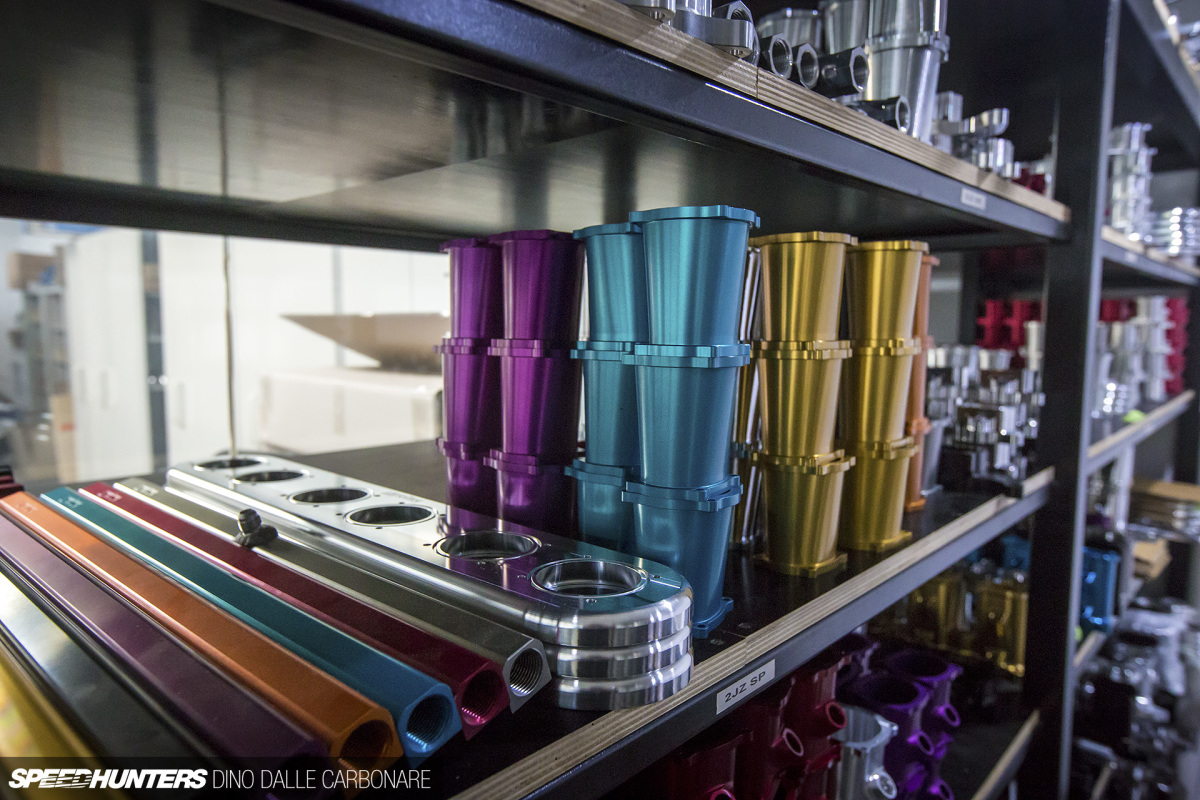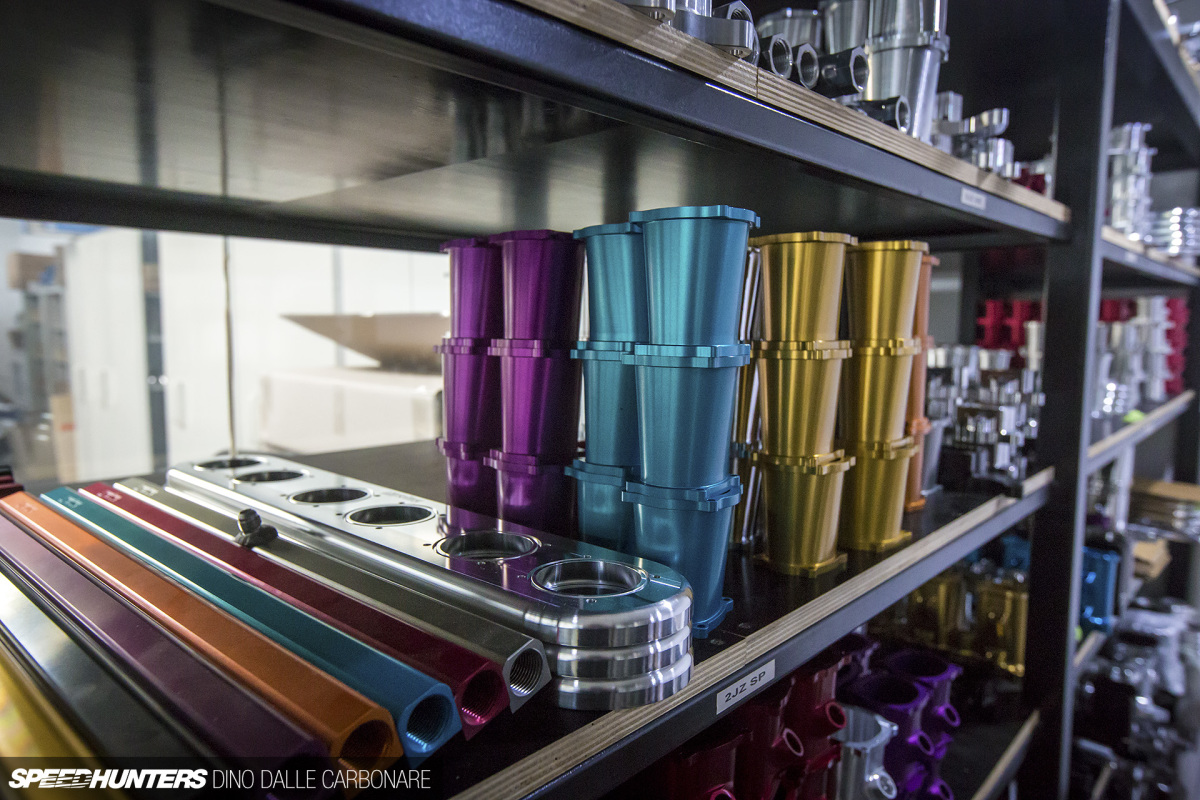 Here you get a few ideas of some of the off-the-shelf colors offered. The questions is, which combination would you pick?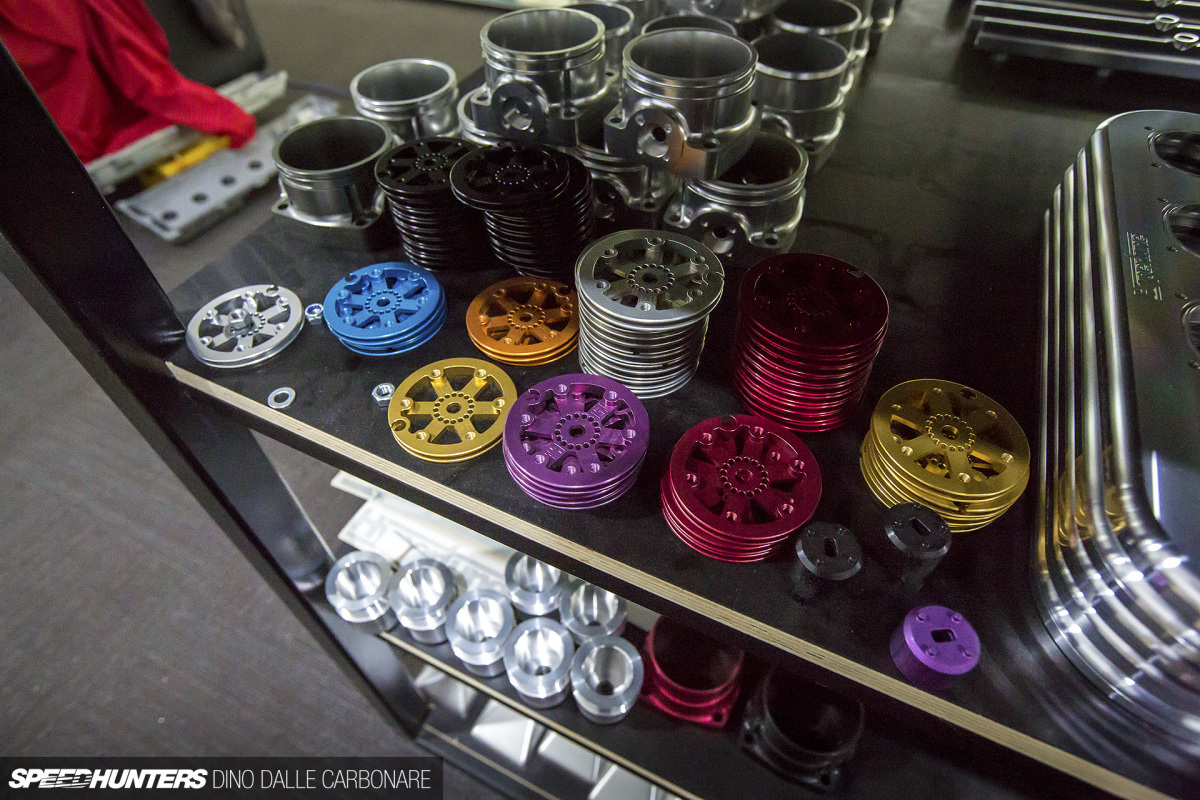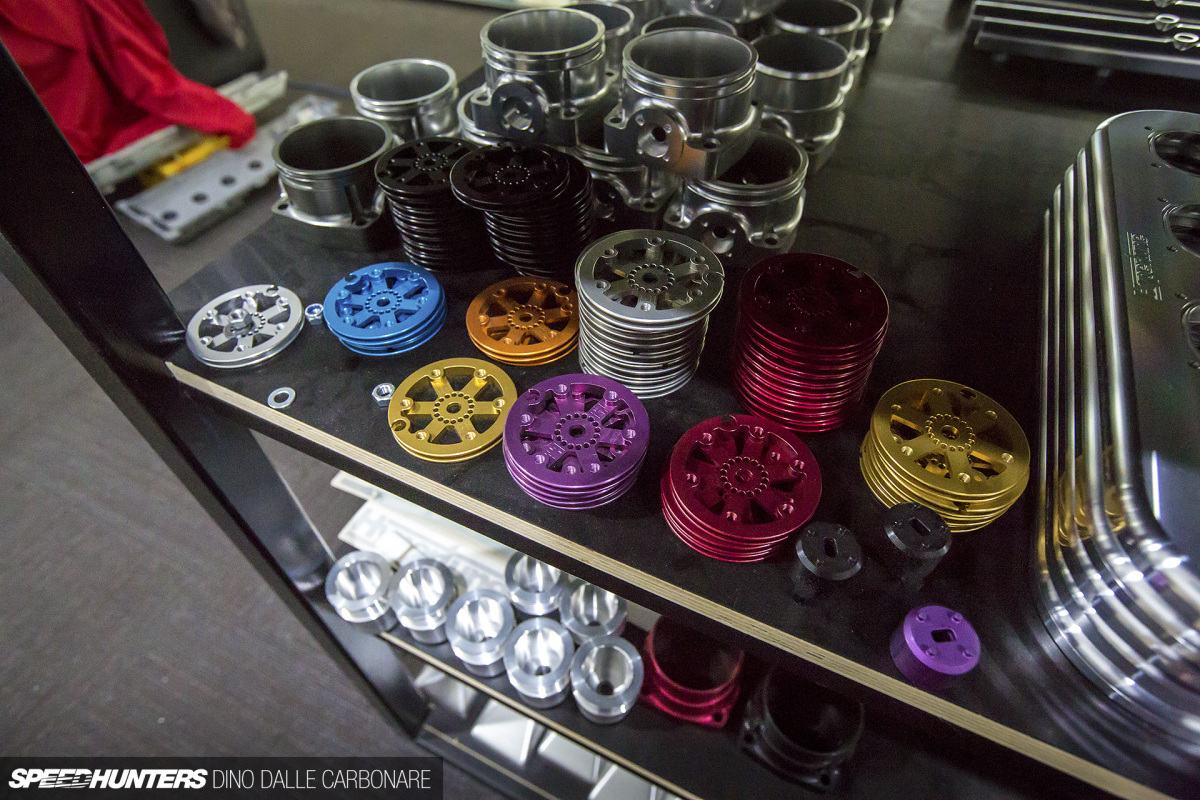 People even request to have throttle pulleys anodized.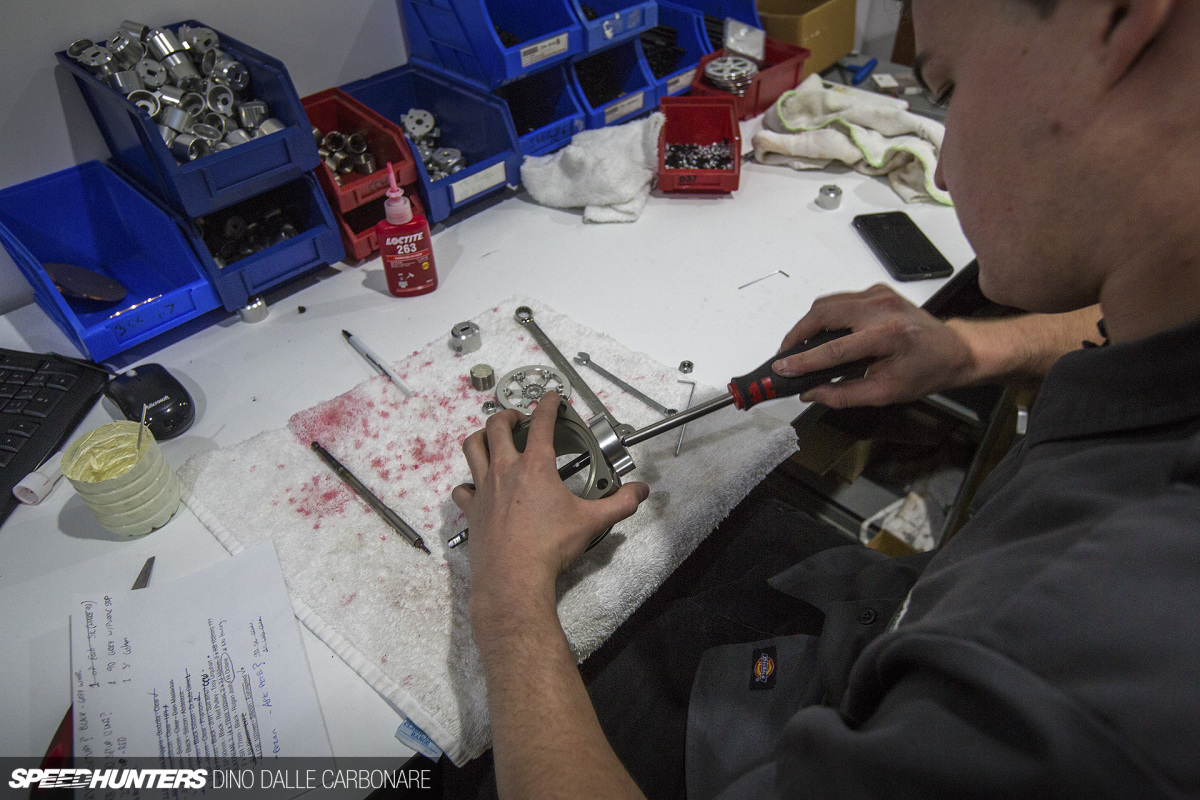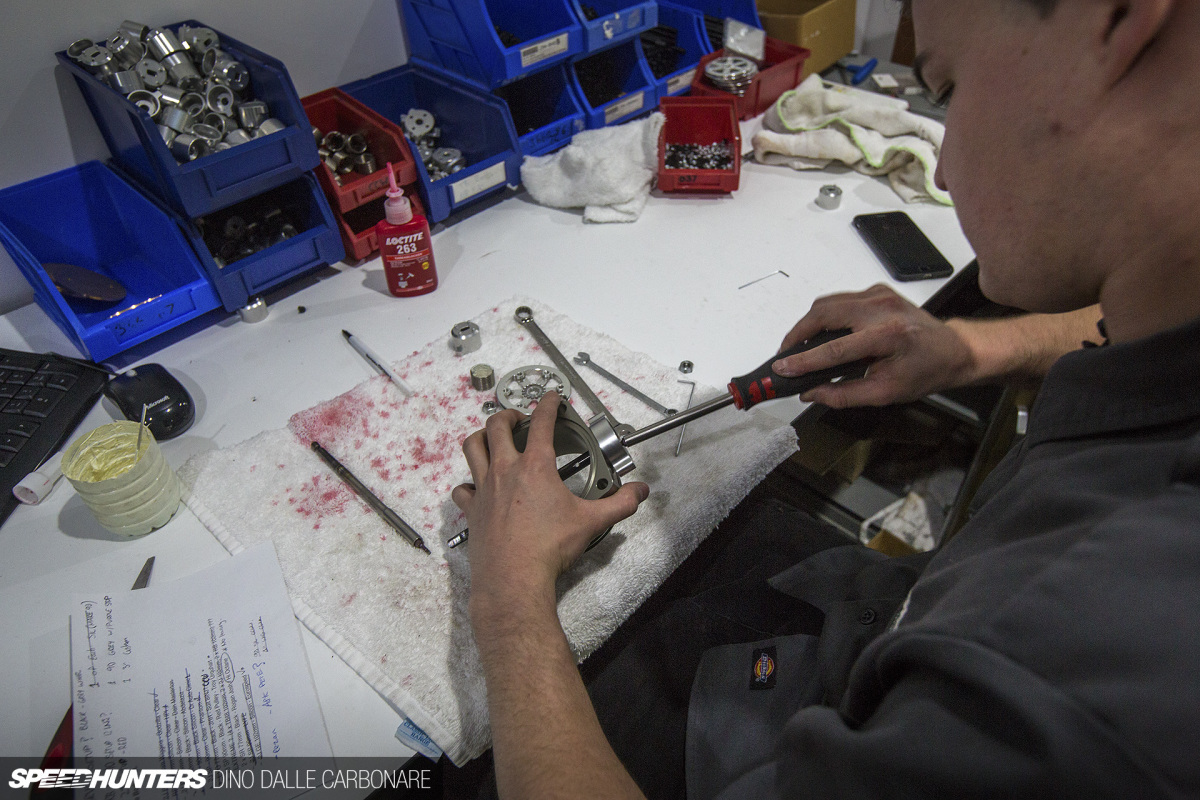 And on the subject of throttle bodies, here's one being assembled prior to being shipped out.
It's very cool to see that Hypertune also caters to those wanting to use Adel Wiggins clamps, those running higher than normal boost pressures, and those that just want the extra reliability. I'd personally love to see more tuners in Japan adopt these sort solutions, rather than the somewhat amateurish things you see them doing at times.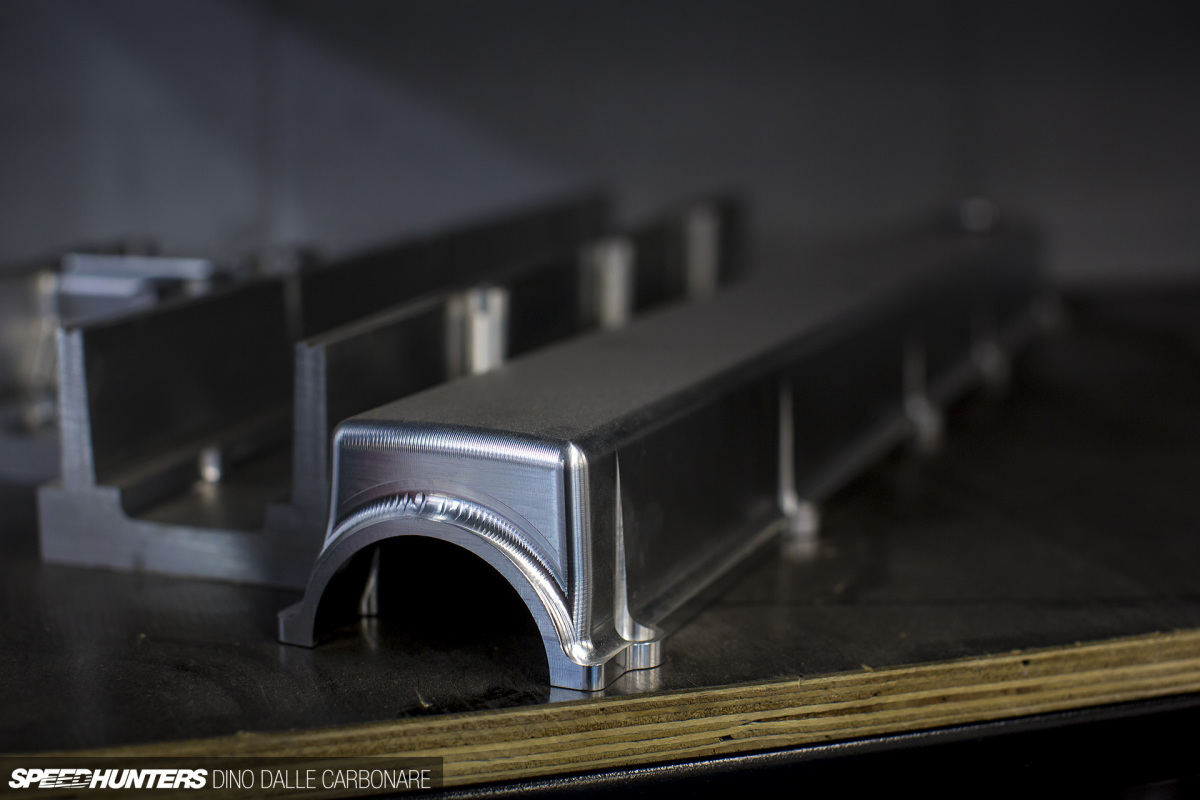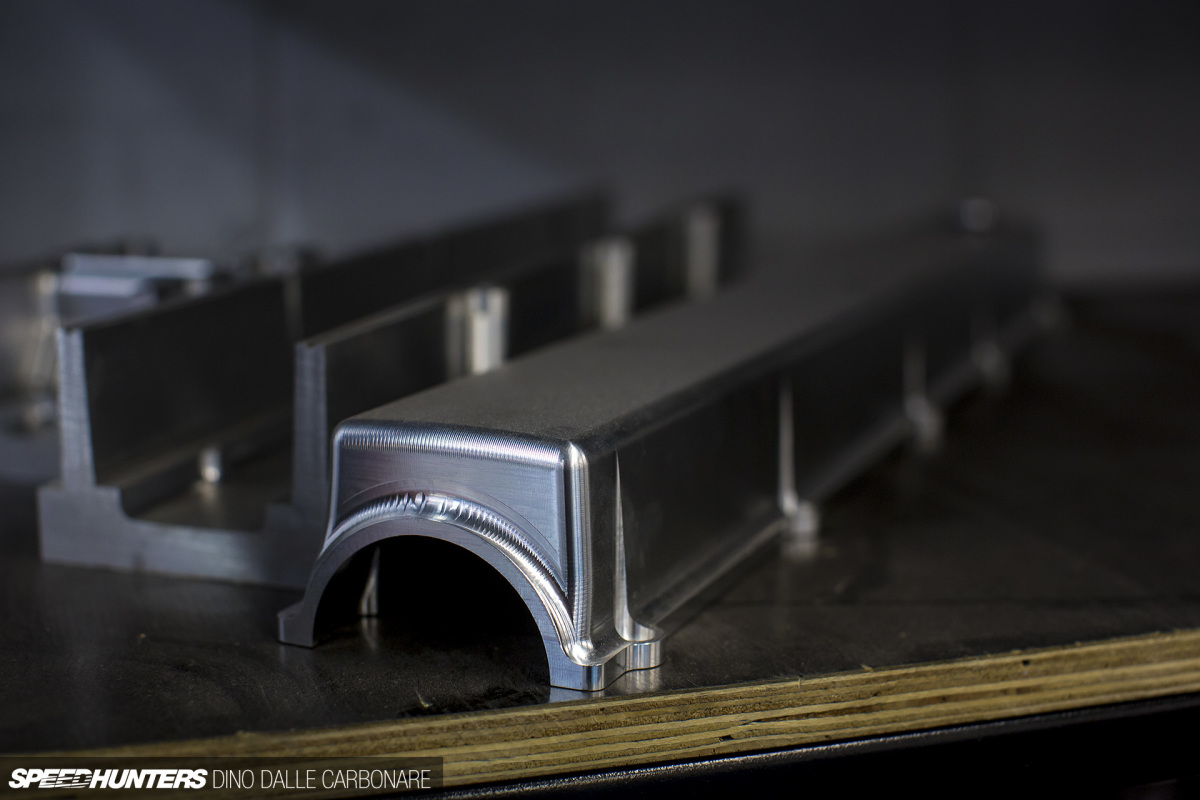 You've seen the low-profile 2JZ cam covers, now here are the RB26 ones.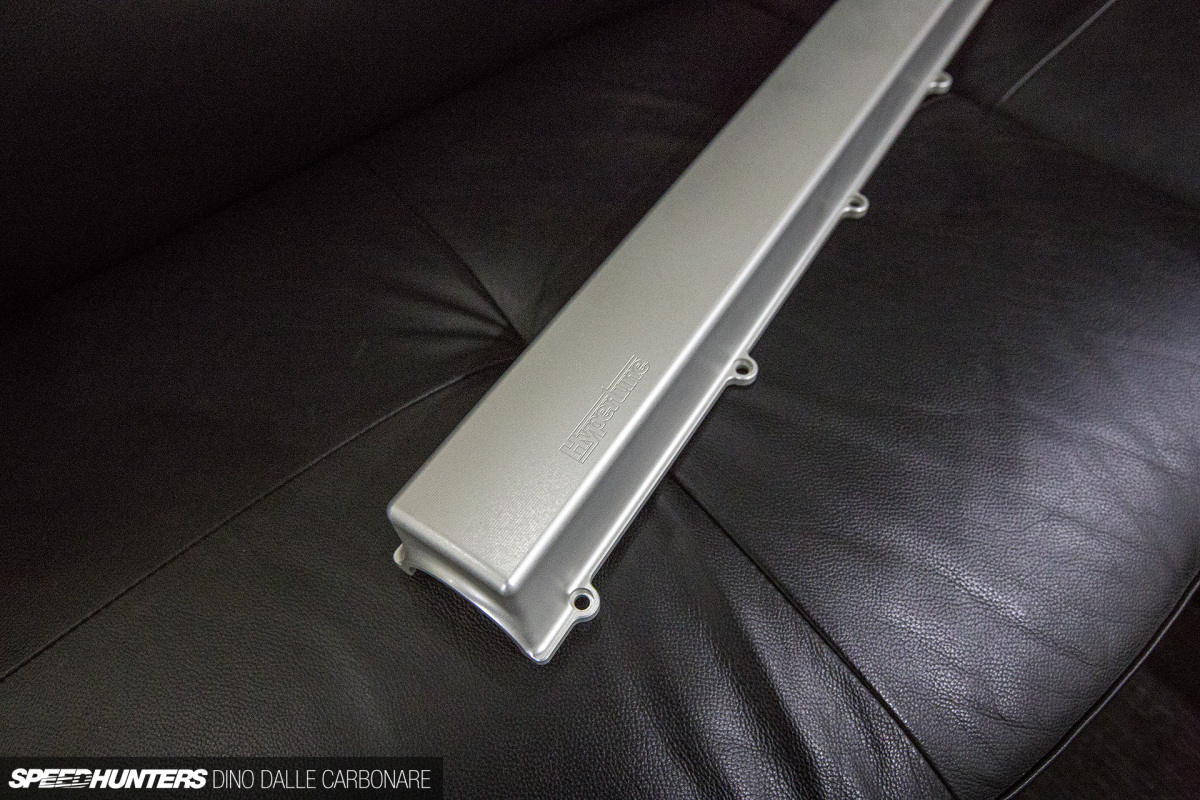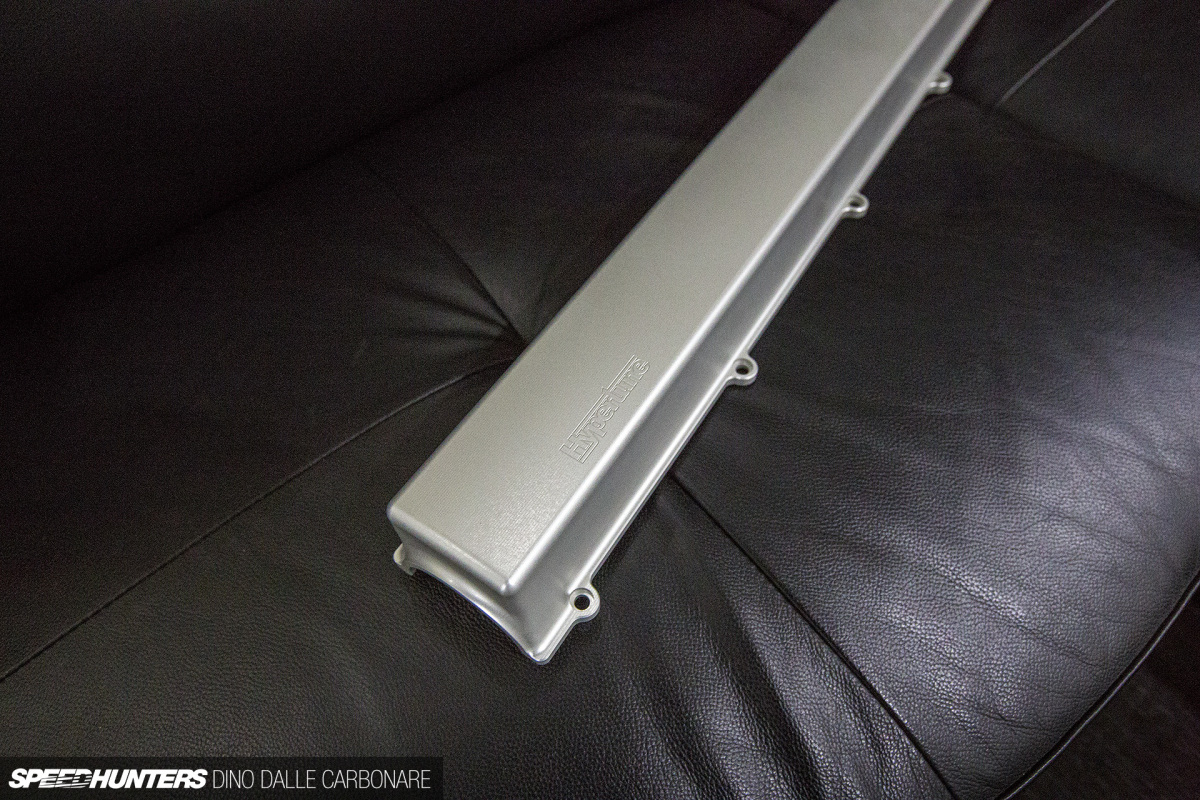 It's a cool solution for those that want to create a totally different look with their engine and setup, and that's pretty much where Hypertune stands in the market. It offers the best for those that want it.
Dino Dalle Carbonare
Instagram: speedhunters_dino
dino@speedhunters.com